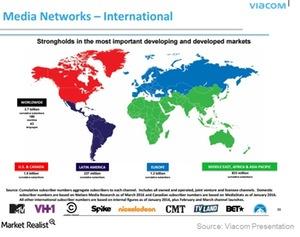 How Is CBS Expanding Internationally?
By Shirley Pelts

Jul. 13 2016, Updated 8:04 a.m. ET
CBS remains bullish internationally
As English-language content becomes popular around the world, media companies in the United States are increasingly looking at international markets as an opportunity to generate revenues. CBS (CBS) is also looking at international markets, where it perceives revenue-generating opportunities for its Showtime content.
In fiscal 1Q16, the company entered into licensing agreements with Sky, a pay-TV operator in Europe (IEV), to license its Showtime channel. CBS has also entered into a similar agreement with Stan in Australia. Stan is an Australian streaming provider. The company also indicated that it's in the process of entering into similar agreements in other international markets and considers this a "recurring revenue" opportunity for its CBS Showtime channel.
CBS also indicated that it remains bullish regarding content licensing opportunities in international markets. In fiscal 1Q16, CBS generated 11% of its revenues from international markets.
Article continues below advertisement
Other media companies looking at international expansion
Viacom (VIAB) is another company that has significant international operations. The company stated at the Gabelli & Company Movie & Entertainment conference last month that, currently, the United Kingdom (EWU) represents around 40% of its international revenues.
Other US media companies that are trying to grow in the UK market include The Walt Disney Company (DIS) with its launch of DisneyLife, a direct-to-consumer service. Netflix (NFLX) and Amazon's (AMZN) Prime Instant Video Service are other OTT (over-the-top) operators that already operate in all or parts of Europe.