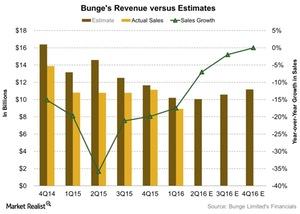 What Could Cause Bunge's Revenue to Drop in 2Q16?
Revenue expectations for upcoming quarters
Analysts are expecting Bunge's (BG) revenue to be ~$10.05 billion for fiscal 1Q16. This represents a fall of 7%—compared to 2Q15 revenue of $10.78 billion. The company missed estimates in the past eight quarters with the exception of 2Q14.
Analysts expect revenue to fall by 2% even in 3Q16 and not grow in 4Q16. For fiscal 2016, analysts expect revenue to be ~$41.07 billion—a fall of 6% compared to revenue of $43.48 billion in 2015. Bunge ended 2015 with a 25% drop in revenue. Its revenue fell in all four quarters in 2015.
Article continues below advertisement
How are Bunge's segments expected to perform?
In the Agribusiness segment, the second quarter doesn't look very favorable due to weather conditions in South America. The weather hasn't been favorable for crops in Brazil and Argentina. This is expected to cause lower crush activity in Argentina and lower origination in export volumes in both countries.
However, this is expected to help the margins in North America and the Black Sea in 3Q16 and 4Q16. It might also benefit oilseed processing, grain origination, distribution, and port elevation.
In the Food & Ingredients segment, the company expects better 2016 results driven by its operational excellence initiatives and recent acquisitions. The company remains optimistic that improved volumes and margins in the Brazilian operations will continue in 2H16 as well.
In the Sugar & Bioenergy segment, Bunge projects good earnings and cash flow growth mainly because of the development of the sugarcane crop. The growth is also driven by sugar price hedges and the Brazilian ethanol pricing outlook.
The company expects the Fertilizer segment to benefit from increased purchases of crop inputs later in 2016 due to improved farmer economics in Argentina. A weaker peso and the removal of export taxes on grains contributed to improved farmer economics.
Peers' revenue estimates
Bunge's peers in the industry include Archer Daniels Midland (ADM), Campbell Soup (CPB), and Ingredion (INGR).
Archer Daniels Midland's revenue for fiscal 2Q16 is expected to fall by 5%.
Campbell Soup's revenue for fiscal 4Q16 is expected to increase by 1%.
Ingredion's revenue for fiscal 2Q16 is projected to be in line with the same quarter last year.
To gain exposure to Ingredion, you can invest in the PowerShares DWA Consumer Staples Momentum Portfolio (PSL) and the iShares U.S. Consumer Goods ETF (IYK). They invest 3.8% and 0.42% of their respective holdings in Ingredion.