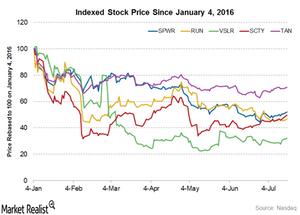 Can Vivint Solar Beat Analysts' 2Q16 Estimates?
Series overview
Vivint Solar (VSLR) will announce its 2Q16 earnings results on August 8, 2016, after Market hours. In this series, we'll look at analysts' expectations for the company's 2Q16 earnings. We'll look at factors that led analysts to arrive at these expectations. We'll also look at the company's 2016 guidance and key indicators investors should watch in the upcoming earnings.
Article continues below advertisement
Vivint Solar's stock performance
From its 1Q16 earnings release on May 9, 2016, through July 20, 2016, Vivint Solar stock has risen nearly 27%. However, stock prices of other major downstream solar companies such as Sunrun (RUN) and SunPower (SPWR) fell nearly 29% and 5%, respectively, during the same period. SolarCity stock gained nearly 20% of its value.
The failed acquisition deal with SunEdison (SUNEQ) caused Vivint Solar's stock price to tumble the most in 1Q16 compared to its peers. On April 21, 2016, SunEdison filed for Chapter 11 bankruptcy protection. However, VSLR stock rose after termination of the proposed merger agreement with SunEdison in March 2016.
The Guggenheim Solar ETF (TAN) tracks the broad-based solar market. It remained nearly flat after Vivint Solar's 1Q16 earning release through July 18, 2016.
Developments after 1Q16
On May 23, 2016, Vivint Solar announced that it closed a tax equity fund with an aggregate funding commitment of $75 million. According to company's press release, the new fund will enable Vivint to install more than 45 MW (megawatts) of residential solar energy systems. This is consistent with the company's aim of monetization of its assets to raise capital at low cost.
On July 19, 2016, Vivint Solar announced that it has selected the HERO (Home Energy Renovation Opportunity) program to finance installations for homeowners who wish to purchase solar energy systems using PACE (Property Assessed Clean Energy) financing. As part of this, the company announced its collaboration with Renovate America, the leading provider of residential PACE financing to expand access to rooftop solar for homeowners.
In the next part of this series, we'll see how analysts rate Vivint Solar.