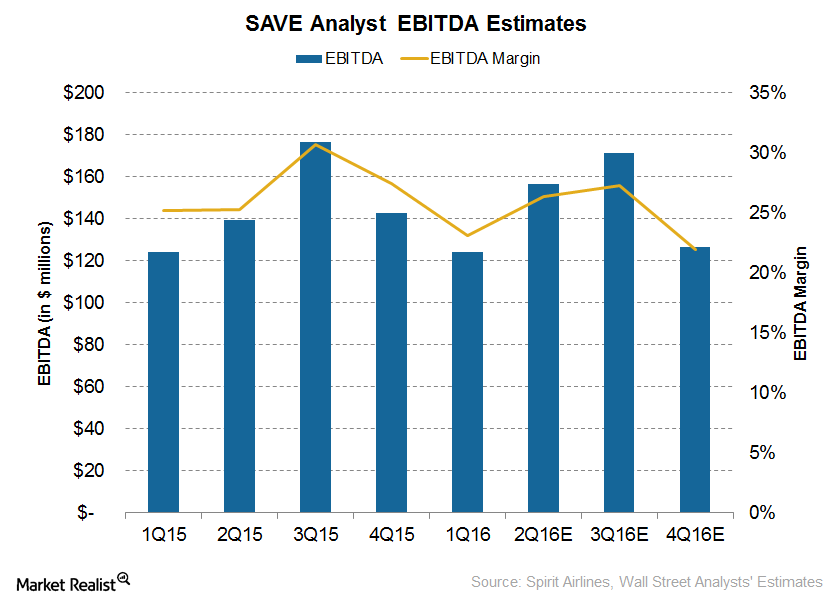 Can Spirit Airlines Maintain Its High Margins in 2Q16 and Beyond?
By Ally Schmidt

Jul. 19 2016, Updated 2:06 p.m. ET
Analyst estimates
Spirit Airlines's (SAVE) EBITDA margins are expected to decline to 25% in 2016, compared with the 27% margins seen in 2015. As a result, its EBITDA is expected to decline marginally by 0.2% in 2016, much slower than the growth seen in 2015.
Allegiant Travel's (ALGT) margins are also expected to decline to 36.9% in 2016. In contrast, most airlines' margins are expected to expand in 2016. Both Southwest Airlines's (LUV) and JetBlue Airways's (JBLU) margins are expected to reach 27% in 2016.
Article continues below advertisement
Unit costs flat
In a strategic move, Spirit Airlines is now shifting to larger aircraft. Its average seat count is expected to increase by 15% as compared to 2015. Also, the carrier is planning to purchase more planes versus leasing them, which will help reduce its financing costs.
As a result, unit costs have declined in 1Q16, and they are expected to decline by 5% YoY in 2Q16 as well. However, for the remaining half of 2016, units costs are expected to rise owing to maintenance costs. Thus, for 2016, unit costs are expected to remain flat.
Load factor flat too
As discussed earlier, Spirit Airlines's capacity expansion has closely matched its traffic growth. As a result, for the six months ended June 2016, capacity utilization is 0.1% higher as compared to the six months ended June 2015.