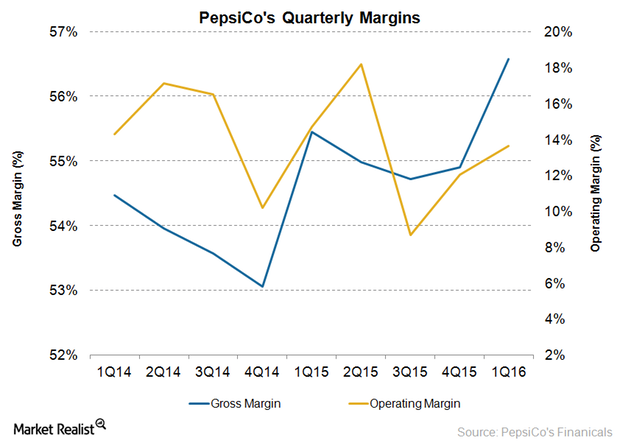 Can PepsiCo's Productivity Initiatives Expand Its 2Q16 Margins?
1Q16 margins
PepsiCo's (PEP) gross margin improved by an impressive 160 basis points to 56.6% in 1Q16, driven by its revenue management strategies and productivity initiatives. However, the company's operating margin in 1Q16 fell by 105 basis points to 13.6% as a result of a $373 million impairment charge related to the company's 5% indirect equity interest in Tingyi-Asahi Beverages Holding. Excluding the impact of exceptional items, the company's core operating margin rose by 165 basis points.
Article continues below advertisement
The 1Q16 operating margins of peers Coca-Cola (KO), Dr Pepper Snapple (DPS), and Monster Beverage (MNST) came in at 20.8%, 21%, and 37.4%, respectively. With PepsiCo scheduled to announce its 2Q16 results on July 7, we'll discuss what to expect from the company's margins and its productivity measures.
Productivity initiatives
Since 2012, PepsiCo has generated $1 billion of annual productivity savings and aims to deliver productivity savings of $1 billion in fiscal 2016 also. The company has fully implemented its zero-based Smart Spending program across the organization, which has enabled it to rightsize its operating expenses in targeted areas like travel and facilities.
PepsiCo's productivity initiatives include manufacturing automation, optimization of its global manufacturing footprint, expansion of shared services, and implementation of simplified organization structures to drive efficiency.
Also, the company is focusing on "premiumization" of its products. This will help the company to achieve a higher price realization and drive its margins. The iShares Russell Top 200 Growth ETF (IWY) has 1.8% exposure to PepsiCo.
Margins in 2Q16
PepsiCo's gross margin in 1Q16 benefitted from a slight deflation in commodities. However, on the 1Q16 conference call, the company indicated that commodities will turn a bit inflationary in the rest of the year. This is likely to be a drag on 2Q16 margins. Also, the company expects its overall corporate expenses to be down in 2016. However, corporate expenses won't fall at the same rate they fell at in 1Q16. The company expects less margin improvement in 2Q16 and 3Q16 and more in 4Q16.
We'll discuss the earnings expectations for PepsiCo's second quarter in the next part of this series.