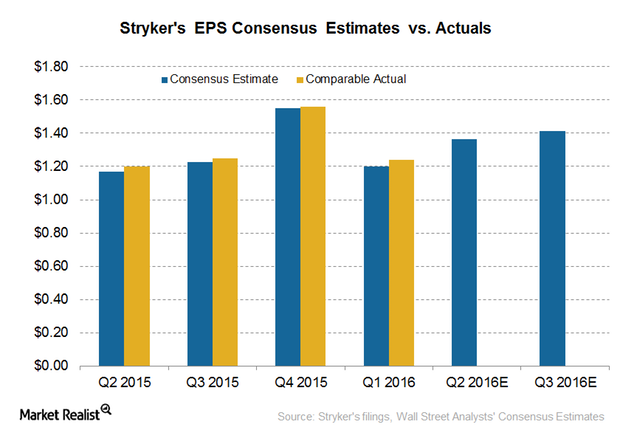 What Can We Expect for Stryker's Earnings in 2Q16?
Analysts' estimates
In 1Q16, Stryker exceeded analysts' EPS (earnings per share) estimate of $1.20, as well as the revenue estimate of ~$2.5 billion. According to analysts' estimates, the company's 2Q16 EPS are expected to come in at approximately $1.37. Stryker expects to report 2Q16 EPS of $1.33–$1.38. The company exceeded analysts' expectations despite the impact of moderate currency headwinds. In 2Q16, Stryker is expected to continue its strong growth, led by investments in R&D (research and development) and a consistent expansion of its gross margin. The company's strategic acquisitions and cost transformations are expected to impact the company's earnings over the year.
Article continues below advertisement
Profit margin estimates
For 2Q16, Wall Street analysts project that Stryker's net profit margin should rise to $516 million. This estimate represents ~18.5% of the total revenue, compared with ~17.2% in the previous quarter. On a YoY (year-over-year) basis, the company's 2Q16 net profit margin is expected to rise by ~36.5%. The gross profit margin for the quarter is expected to be above 67%, which translates to a YoY growth of ~16.9%.
In their most recent quarters, Stryker's major competitors BD (BDX), Medtronic (MDT), and Boston Scientific (BSX) reported EPS growth of 12.1%, 77%, and 38.5%, respectively.