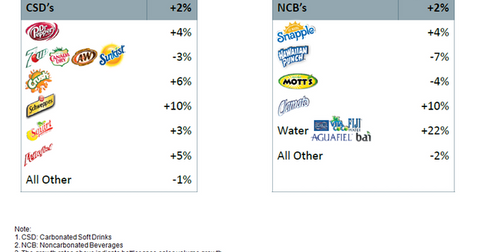 Can Dr Pepper Snapple Group's Volumes Rise in a Weak Soda Market?
By Sirisha Bhogaraju

Updated
Pressure on soda volumes
A shift in consumer preference to healthier beverage options has negatively impacted the volumes of carbonated soft drinks, or CSDs. Soda taxes are also expected to adversely impact CSD volumes. In June 2016, Philadelphia's mayor announced a soda tax of 1.5 cents per ounce on sugary beverages, effective next year. About 80% of Dr Pepper Snapple Group's (DPS) volume is exposed to the CSD category.
Article continues below advertisement
Volumes in 1Q16
In 1Q16, Dr Pepper Snapple Group's bottler case sales volumes increased by 2% on a year-over-year basis. This growth was driven by a 2% rise in CSDs as well as growth in NCB (non-carbonated beverage) volumes.
The growth in the company's branded CSD volumes was driven by a 4% volume rise in the company's key brand, Dr Pepper. Also, the Schweppes and Crush brands experienced volume growth of 10% and 6%, respectively, driven by increased promotional activity at a large retailer. Peñafiel, the company's popular sparkling mineral water brand, grew 5%. The company's Squirt brand witnessed a 3% rise in its 1Q16 volumes. However, the overall volume growth of 2% in Dr Pepper Snapple's 1Q16 CSD volumes was lower than the 3% growth in 1Q15.
In the NCB category, volume growth was mainly due to 22% growth in the volume of the water category. The water category benefited from distribution gains for Bai Brands and Fiji and increased promotional activity. The volumes of Snapple and Clamato increased 4% and 10%, respectively. Brands that didn't perform well in 1Q16 included Hawaiian Punch and Mott's.
Coca-Cola's (KO) sparkling beverage, or CSD, volumes remained flat in 1Q16, while its non-carbonated beverage volumes increased by 7% in 1Q16. PepsiCo's (PEP) CSD volumes declined by 2% in 1Q16, and its NCB volumes declined by 7%. In 2Q16, PepsiCo reported a 4% decline in its CSD volumes and a 3% rise in its non-carbonated beverage volumes. Unlike soda beverages, energy drinks continue to enjoy strong demand. This is benefiting Monster Beverage's (MNST) top line.
Together, Dr Pepper Snapple Group, Coca-Cola, PepsiCo, and Monster Beverage account for about 2% of the SPDR S&P 500 ETF (SPY).
Volume expectations
Dr Pepper Snapple Group expects overall volumes to remain flat in 2016. Given the headwinds in the CSD category, Dr Pepper Snapple Group expects its soda volumes to be relatively flat in 2016. The company expects a slight increase in 2016 NCB volumes. The company's NCB volumes are likely to be impacted by pricing actions taken across several warehouse direct brands. Also, the possible termination of the company's Aguafiel 10-liter business in Mexico is expected to adversely impact NCB volumes. However, the company expects other NCB brands such as Snapple, Clamato, and its allied brand portfolio to deliver in 2016.
We'll discuss analysts' recommendations for Dr Pepper Snapple Group's stock in the next part of this series.