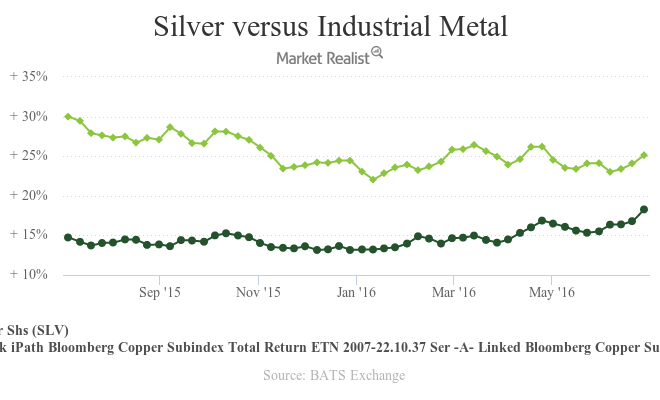 Would You Buy a Silver or Gold Nest?
More bids for silver
The Brexit vote on June 23, 2016, took over the world Markets for a time, gripping investors and creating speculations. When investors don't know what direction the Market could take, they often prefer parking their money in haven assets such as gold and silver.
Often, haven bids for gold outnumber bids for silver. But the recent surge of silver has proved differently. According to Daniel Marburger, director at CoinInvest, investors have been buying more silver than gold. He said the company's orders in the past three days have been 90% for silver compared to the usual 70%–80% for gold.
[marketrealist-chart id=1426470]
Article continues below advertisement
You can see the performance of silver compared to copper, an industrial metal, over the past year in the above graph. The iShares SilverTrust (SLV) tracks the performance of silver, whereas the iPath Bloomberg Copper Subindex Total Return (JJC) tracks copper. Although copper has outperformed silver in the past, the current 2016 perspective for copper looks comparatively dim compared to silver.
Commodity performance
After the Brexit vote, most commodities, excluding grains, have performed well. Hedge funds have been heavy buyers of commodities in the recent quarter, with bullish bets reaching a two-year high. Bond yields remained low after the Fed's concerns over economic growth.
Opportunity cost
Precious metals yield no interest, so a lower interest rate is good for them. The opportunity cost of metals rises when interest rates rise. Non-yield bearers perform well with downward sticky Market sentiment.
Mining shares that followed the returns of precious metals include Iamgold (IAG), Harmony Gold (HMY), and Agnico Eagle Mines (AEM). Theses three shares together make up almost 8% of the fluctuations in the VanEck Vectors Gold Miners ETF (GDX).