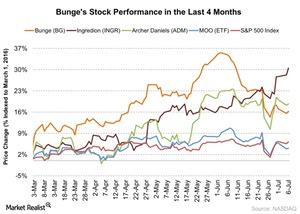 How Has Bunge's Stock Fared in the Last 4 Months?
Stock falling after an impressive share price appreciation
Bunge's (BG) joint venture news with Wilmar on July 5, 2016, wasn't too positive for its shares. It fell by 1.3% to close at $57.16 on the day, compared to its previous closing price of $58.56. Bunge's shares have risen at an impressive rate in the last few months. They rose by as much as 35% at one point in 2016.
As of July 7, Bunge's stock has fallen by 13% so far in 2016. After its fall on July 5, it rose by ~1% on July 6 and closed at $58.12.
Bunge's impressive 4Q15 results added value to its stock. It started rising after its 4Q15 earnings were released on February 11, 2016. Since then, the stock has risen by 21% as of July 6. The company showed earnings growth of 24% in the last quarter of 2015.
Article continues below advertisement
Bunge's strong start to 2016 has also been benefiting its stock. The company has surpassed analysts' earnings estimates by 78%. It released its 1Q16 earnings on April 28. Its management has an optimistic outlook for 2016 to be a year of strong earnings and cash flow despite a fall in earnings and revenue in 1Q16. The stock closed at $66.16 on June 9, 2016.
Peers' stock performances
Peers Archer Daniels Midland (ADM) and Ingredion (INGR) have risen by 30% and ~19%, respectively, in the last four months compared to Bunge's rise of 16%. Bunge makes up about 3.0% of the VanEck Vectors Agribusiness ETF (MOO). This ETF invests around 30% of its holdings in the agricultural chemical sector and 18% in the food and beverage sector.
MOO has returned ~4% in the last four months and ~3% year-to-date. It also invests 6.4% in ADM and 7.6% in Monsanto (MON), an agricultural chemical company based in Missouri. Bunge also makes up ~1% of the First Trust Large Cap Value Opportunities AlphaDEX ETF (FTA).