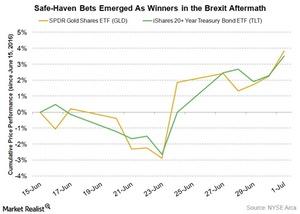 Has Britain Really Voted Its Way to Prosperity?
By Surbhi Jain

Updated
Factors that indicate the UK could prosper
Some believe that with Brexit, UK (EWU) has voted its way to prosperity. Several factors support this view.
The migration crisis has been impacting jobs in the UK. Brexit would bring an end to the unrestricted immigration from the rest of the European Union, helping Britain secure jobs for its own population.
Also, Britain would be able to trade independently, without the need to strike a deal with the EU (IEV) (HEDJ) (VGK). Moreover, the UK does need special deals with the EU with respect to cars, aerospace, and food, where it should prosper more if it catered its own interests.
Britain would also be able to save on its net cost of EU membership, which exceeds $10 billion per year.
Article continues below advertisement
Asset managers' views are divided
The Brexit referendum aftermath has translated to gains for certain hedge funds, while washing away earlier gains for others. Moreover, asset managers' views are divided on the future of the UK. Some see Britain prospering as an independent country, while others foresee Britain's detachment from the European Union leading to a deteriorating trade and growth situation.
Billionaire investor Steve Cohen of StevePoint72 Asset Management definitely holds a positive outlook for Britain. His firm, which had massive expansion plans in London, announced that these plans will stay on track.
Marc Desmidt, Point72's Asia-Pacific CEO, noted, "When we reopened our London office in January of this year, we made a strategic commitment to building our presence in the region."
On the other hand, George Soros believes that the Brexit result has "unleashed" a crisis in financial markets similar to the global financial crisis of 2007 and 2008. Bill Gross believes that it is a "danger to risk assets," as funds will flow to safe-haven assets (GLD) (BND).
However, like Soros and Carl Icahn, Steve Cohen also seems bearish about the US economy (VFINX) (IWM). His firm's top holding in 1Q16 consists of puts on the SPDR S&P 500 ETF (SPY).
For more on this topic, please read Are We in a Bear Market? Jeffrey Gundlach Weighs In.