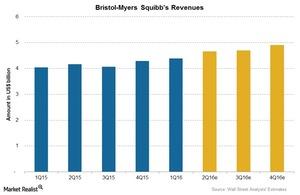 Bristol-Myers Squibb's 2Q16 Estimates: Expect Growth!
By Mike Benson

Jul. 25 2016, Published 2:24 p.m. ET
Bristol-Myers Squibb's 2Q16 estimates
Bristol-Myers Squibb (BMY) is expected to report revenue growth of over 11% to $4.7 billion in its 2Q16 results on July 28, 2016. Further, analysts' estimates show low-double-digit growth in revenues for each quarter in 2016.
The above graph shows the revenues of Bristol-Myers Squibb in each quarter and analysts' estimates for the next three quarters. As the company has worldwide operations, it's largely exposed to the impact of foreign exchange.
Article continues below advertisement
Segment-wise performance  
Bristol-Myers Squibb's business is divided into the following segments:
The oncology segment is the largest revenue contributor for Bristol-Myers Squibb, contributing over 30% of total revenue. The revenue and growth for this segment are expected to be driven by increasing sales of drugs Opdivo and Sprycel during 2Q16, partly offset by Yervoy and Erbitux.
The virology segment contributes around 28% of total revenue for Bristol-Myers Squibb, and the hepatitis C franchise is the growth contributor for this segment.
The revenue for the immuno-science segment, which includes the drug Orencia, is expected to grow during 2Q16. The overall contribution of this segment is around 10% of total revenue.
The cardiovascular segment, represented by the drug Eliquis, contributes over 16% of total revenues. The segment's revenues are expected to increase in 2Q16, following increased demand for Eliquis due to wide use and the strength of its prescription trends.
The neuroscience segment, represented by the drug Abilify, is expected to report a decline in sales during 2Q16, due to competition for Abilify. Abilify is a trademark of Otsuka Pharmaceutical Co.
The revenues for matured products and all other products are expected to decline, following lower sales and increased competition during 2Q16.
The company's key products are discussed separately in the coming articles. To diversify risk, you can consider the PowerShares Dynamic Pharmaceuticals Portfolio (PJP), which holds 5.2% of its total assets in Bristol-Myers Squibb, 5.3% of its assets in Johnson & Johnson (JNJ), 5.0% of its assets in Novavax (NVAX), and 5.1% of its assets in Pfizer (PFE).