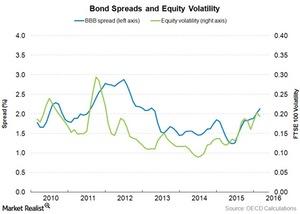 Is Brexit Underscoring the US Corporate Bond Market's Strength?
By Surbhi Jain

Nov. 20 2020, Updated 10:59 a.m. ET
Spreads widen, volatility rises during times of uncertainty
When uncertainty rises, equity markets become volatile, and bond spreads rise on account of perceived rises in risk. Brexit is likely to have a similar effect on capital markets. Spreads widen and equity volatility rises when market uncertainty rises.
Article continues below advertisement
Rough ride for UK capital markets ahead?
While it may spell a rough ride for equity and bond markets in the United Kingdom and the European Union (or EU), Brexit may positively impact the US corporate bond market (BND) (AGG).
With equity in its risk-on gear and sovereign yields falling globally, the US investment-grade corporate bond (LQD) (SNLN) market seems to offer what no one else is offering: safety of returns. We're seeing a flight to safe-haven investments and asset classes. Precious metals such as gold (GLD) and silver (SLV) are surging.
While many risk-takers may be turning to emerging markets in search of yields, the greater, more risk-averse population is placing its money into safe securities. Bill Gross has warned investors that in the current market environment, investors should worry about the returns "of" their investments, not "on" them.
High-quality corporate bonds to take center stage
With Treasuries (TLT) at very low yields, we may see investor demand for high-quality corporate bonds rising. We've recently seen bond offerings from Oracle (ORCL), Express Scripts (ESRX), and General Motors (GM).
With annualized issuance currently standing at $1.4 trillion for 2016—already ahead of last year's $1.3 trillion—corporate bond issuances may see sunnier days ahead. Returns are high. However, we may be some tightening in the second half of 2016, as more and more corporations come out with their bond offerings.
Key drivers behind these bond issuances will be as follows:
refinancing of existing debt at lower rates
funding M&A (mergers and acquisitions) activity: 22% of borrowings constituted M&A financing in 2016 compared 8% in 2014
Meanwhile, the Brexit decision on June 23, 2016, is already impacting yields in the United Kingdom, where credit ratings are being downgraded.