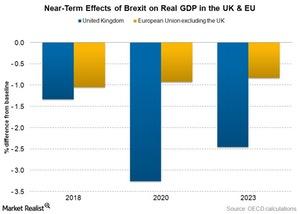 How Brexit Could Impact GDP, Capital Flows, and Growth in the UK
By Surbhi Jain

Nov. 20 2020, Updated 12:05 p.m. ET
The United Kingdom has benefited under the EU's support
European Union (or EU) membership has definitely aided the United Kingdom (EWU) from a growth perspective. GDP per capita, a good gauge of living standards in the economy, has been rising in the United Kingdom following its EU membership.
According to the International Monetary Fund's World (ACWI) (VEU) (VTI) (VXUS) Economic Outlook Database, the United Kingdom's GDP was $2.7 trillion in 2015.
Article continues below advertisement
Real GDP in the United Kingdom is expected to fall
According to the OECD's (Organisation for Economic Co-operation and Development) calculations, real GDP in the United Kingdom is expected to fall over the short to medium term. While the United Kingdom could see its real GDP fall by about 1.3%, 3.3%, and 2.5%, respectively, over the next two, four, and seven years, the EU could witness a 1.1%, 0.9%, and 0.8% fall in its real GDP during these respective time periods.
Then, there's the added uncertainty associated with capital flows into the economy. Investors tend to be hesitant when uncertainty rises in an economy. Capital flows into the economy could see come pullback at a time when the economy might, in fact, need an excess of it. With the current account deficit likely to expand with Brexit, the UK economy may require capital account financing to fill the gap.
Changes in immigration rules, too, are likely to impact economic progress in the United Kingdom, where immigration continues to be an important driver of employment and output.
Capital markets to be impacted too
The UK financial services sector is currently the most sensitive to the potential repercussions of Brexit. You can read The Post-Brexit Banking Bloodbath on Friday: Any Opportunities? for our perspective on the likely impact that Brexit could have on multinational banks.
Brexit is also very likely to impact capital markets, as we'll discuss in the next article.