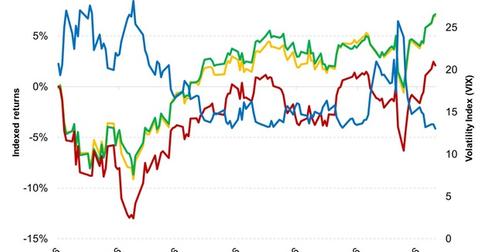 How the Brexit Vote Affected the Markets
By BlackRock

Updated
Dr. Andrew Ang, Head of Factor Based Investing at BlackRock, uses Brexit as an example to show how minimum volatility strategies work and why they deserve more of your attention.
Brexit kicked market volatility into high gear. The Dow Jones Industrial Average lost almost 900 points within two days after the United Kingdom's vote to leave the European Union, as Bloomberg data shows. By week's end, the index had rallied back to where it began before the vote, with plenty of zigzagging since.
With Brexit adding yet another layer of global economic uncertainty, investors are understandably on edge. How do I protect my capital? Where can I find growth amid heightened risk? Truth be told, we are sometimes our own worst enemy. Unsettled by uncertainties and racked by emotions, many of us too often sell at the wrong time — when equities fall — and are left out of the market when it rebounds.
Article continues below advertisement
Market Realist – How has the Brexit vote affected the Markets?
In the above graph, you can see the returns of the S&P 500 index (IVV), the Dow Jones Industrial Average (or DJIA) (DIA), the Nasdaq (QQQ), and the volatility index (or VIX) so far in 2016. It shows that the Markets have been choppy for a good part of this year. They've been plagued by many uncertainties, including the probability of lower global growth and higher interest rates in the United States.
After the United Kingdom voted to exit the European Union, global markets (ACWI) (URTH) plummeted. On June 24, 2016, the day after the referendum vote, the S&P 500 plunged by 3.6%, the DJIA fell by 3.4%, and the Nasdaq plummeted by 4.1%. The volatility index (VXX) spiked to 26 from 17 on the previous day.
The Markets have recovered since, but investors remain worried about the ultimate consequences of the upcoming Brexit and the possibility of volatility remaining high. In the remainder of this series, we'll see how you can protect your capital without compromising on returns.