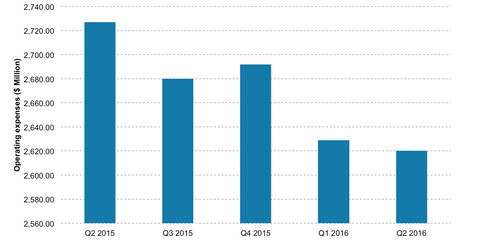 How BNY Mellon's Cost Control Measures Are Boosting Profits
By Rebecca Keats

Updated
Cost control measures
To boost profitability in an unpredictable operating environment, banks (XLF) (VFH) are reducing expenses by restructuring their businesses and focusing on their cores. Bank of New York Mellon (BK) has been focusing extensively on efficiency through cost controls to boost its profitability.
The company has been cutting costs in recent quarters, and the trend continued this quarter. BNY Mellon's CEO Gerald Hassell has been under pressure to trim expenses and maintain the bank's profitability. Recently, he sold the bank's headquarters at 1 Wall Street and reduced the real estate his employees occupy.
Hassell is also in the process of streamlining technology operations to cut down on expenses. "Our success in aggressively controlling expenses and executing on our business improvement process helped sustain earnings momentum in a period of market uncertainty," Hassell said in a press release.
Analysts and experts believe the bank has more room to cut down on costs by cutting down on the use of outside vendors and automating more tasks. Hassell said that the bank had 30 software programs in production to perform certain "mind-numbing processes."
Article continues below advertisement