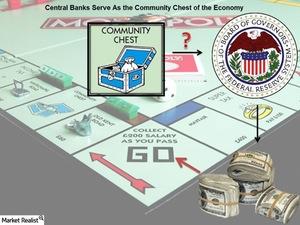 Bill Gross: Unfortunately, We Aren't Playing Monopoly
By Surbhi Jain

Nov. 22 2019, Updated 7:12 a.m. ET
Central banks are really the "community chest," not the banker
Bill Gross of Janus Capital (JNS), drew out a very picturesque analogy between the economy and a game of Monopoly in his latest investment outlook for July 2016. He stressed the importance of credit in driving the economic system.
Gross thinks that "in today's modern day economy, central banks are really the 'community chest,' not the banker. They have lots and lots of money available, but only if the private system—the economy's real bankers—decides to use it and expand 'credit.'" The central bank can only print and provide the new money. It's in the hands of the private sector's financial institutions to impact credit creation in the economy. After all, it isn't the Fed that funds your car or home purchases—it's the private sector's financial institutions. The economy's financial sector (KBE) has a very vital and critical role to play here.
Article continues below advertisement
For growth to happen, credit creation needs to be the multiplier
According to Gross, "If banks don't lend, either because of risk to them or an unwillingness of corporations and individuals to borrow money, then credit growth doesn't increase." If the private financial sector doesn't expend and create enough credit, no amount of QE (quantitative easing) by the central banker can keep the real GDP at the same pace or prevent some companies or households from going bankrupt.
This is especially relevant to today's finance-based developed (EFA) (VEA) world. Credit is a major factor in driving economic growth. The amount of bank lending is declining across developed markets as the share of non-performing loans to gross loans has been rising.
Much of the decline in lending can be attributed to the oil route since mid-2015. With delinquencies and bad debts rapidly rising in the energy sector, as crude oil prices crashed from near $100 in mid-2015 to near $30 in February 2016, banks seemed to have stopped lending to the sector.
Unfortunately, we aren't playing Monopoly
Moreover, credit creation isn't constant over time. In Monopoly, each player is ensured $200 whenever they pass "Go." They use the money to buy more properties and pay rent when they land on others players' property. In Monopoly, the $200 of credit creation never changes. In the real economy (VFINX) (SPXL), credit creation isn't guaranteed to occur at the same pace each year. Unfortunately, we aren't playing Monopoly!