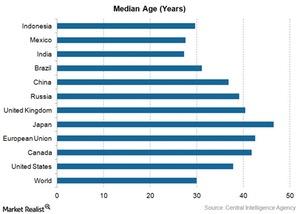 Bill Gross: What's His New Normal Thesis?
By Surbhi Jain

Nov. 22 2019, Updated 7:10 a.m. ET
Gross highlights structural headwinds in the future
In his Investment Outlook for July 2016, Bill Gross also shared his view on the current state of the economy. Gross doesn't fail to recognize the growth stagnation that the world economy (ACWI) (VEU) (VXUS) (VT) is facing currently.
Gross talks about the structural elements that play a significant role in the current economic stagnation.
aging demographics
debt overload
Article continues below advertisement
Technological advancement is adding to joblessness
In May, Gross detailed his view on information technology and robotization adding to joblessness in the US economy (SPY) (IWM). While technological advances to the extent of research and development and innovation are certainly adding to economic growth and advancement, the robotization and automation of processes are steadily replacing the workforce—this adds to joblessness. As a result, the new economy is putting more and more people out of work. The US employment-to-population ratio stood at 82% at the peak in 2000. Now, it's down to 78% of the eligible workforce between 25 and 54 years old.
New normal thesis
Growth has become a rare commodity while spending seems to be stuck in low gear.
Recently, Gross has been repeatedly mentioning a "new normal" that the developed world seems to be in. Real GDP growth is around 2% in the US. It used to easily hover around 4%–5% a decade ago. It's important to note that 2% real GDP growth seems to be characteristic of the "new normal" economy.
Gross also talked about possible deglobalization of the world economy.