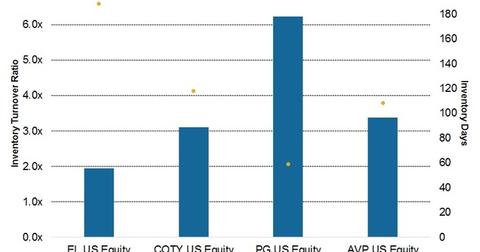 Beauty Companies Saw Mixed Inventory Levels in 1Q16
By Penny Morgan

Updated
Higher inventory level
Beauty companies will enter calendar 4Q15 with varying inventory levels. Procter & Gamble's (PG) inventory turnover ratio rose 6.1% to 6.2x compared to 5.9x in 1Q15. However, organic sales growth was flat as strong growth in China, Brazil, and Mexico was offset by the loss of finished product sales to the deconsolidated subsidiaries in Venezuela.
Estée Lauder (EL) ended calendar 1Q16 with a 3.5% rise in inventory. According to Tracey Thomas Travis, EL's chief financial officer and executive vice president, the company saw continued progress in working capital initiatives and favorable currency translations.
However, these improvements were partially offset by the inventory build necessary to meet future sales growth and additional inventory from new brands. EL's inventory turnover ratio came in at ~1.9x in 1Q16.
Article continues below advertisement
Lower inventory
Coty's (COTY) inventory turnover ratio fell 4.6% to 3.1x in calendar 1Q16 compared to 3.3x in 1Q15. This was due to a substantial reduction of trade inventories in Brazil and unsustainable business lines launched over the last couple of years, resulting in overstocking of products.
Avon's (AVP) inventory turnover ratio also fell 3.8% to 3.4x in 1Q16. Operationally, Avon's inventory was five days worse, driven by actions to protect service levels in Northern Latin America and additional purchases to support Fashion & Home growth in EMEA.
Inventory management
P&G and EL have maintained good inventory levels for the holiday season ahead. However, if the 2016 holiday season sales are not encouraging, higher inventory and lower payable days will lead beauty companies to markdowns, which could impact their margins in 1Q16. We'll discuss margins, stock price, valuation multiples, and growth initiatives taken by beauty companies in the coming parts of the series.
COTY, EL, and PG together make up 1.2% of the iShares Russell 1000 ETF (IWB).[1. Updated on July 13, 2016]