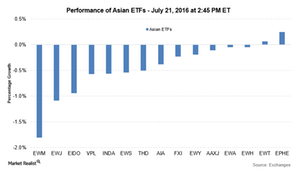 Why Did Bank Indonesia Keep Rates Constant?
By David Meyer

Nov. 20 2020, Updated 3:20 p.m. ET
Bank Indonesia maintains rates at 6.5%
Bank Indonesia kept its benchmark rate unchanged at 6.5% during the monetary policy meeting on July 21 amid expectations of another round of easing. It cut interest rates by 25 basis points in the previous policy meeting. The lending facility and the deposit facility rates were also kept at 7.0% and 4.5%, respectively. There has been a recovery in the financial health of the Indonesian capital market since the United Kingdom's referendum. Inflation levels are in control at 3.5%—within the central bank's target range of 3%–5%. Since the Fed is expected to keep rates unchanged in the near future, expectations are high for more easing by Bank Indonesia in the coming policy meetings. Read Bank of Indonesia Cuts Rates: Will It Spur Sluggish Growth? to learn more about the rate cut by Bank Indonesia in June.
The iShares MSCI Indonesia (EIDO) and the broad-based iShares MSCI All Country Asia ex Japan (AAXJ) were trading lower by 1.1% and 0.91%, respectively, on July 21 at 2:45 PM EST.
Article continues below advertisement
Hong Kong's consumer inflation eased in June
Consumer prices in Hong Kong increased by 2.4% on an annual basis in June—compared to a 2.6% rise in the previous month. The figure was at the lowest level since December 2015. Consumer prices eased mainly due to a sluggish increase in prices for food items and the housing sector. The unemployment rate in Hong Kong also remained high at 3.4%. To learn more about the unemployment release in Hong Kong, read Asian Markets Fall, Led by EWA: Australia Stays Open to Rate Cut.
The iShares MSCI Hong Kong (EWH) and the iShares China Large-Cap (FXI) were trading slightly lower by 0.12% and 0.28%, respectively, on July 21 at 2:45 PM EST.
Japan's Tankan index released unchanged in July
The Tankan index published by Reuters for Japan remained stable in July at 3—in line with the previous month. The outlook for the manufacturing and services sector in Japan remains weak—clouded by uncertainties arising from the Brexit vote. Japan's all industries activity index fell by 1.0% for May—in line with expectations and a rise of 1.3% in the previous month. The iShares MSCI Japan (EWJ) was trading lower by 1.1% on July 21 at 2:45 PM EST.