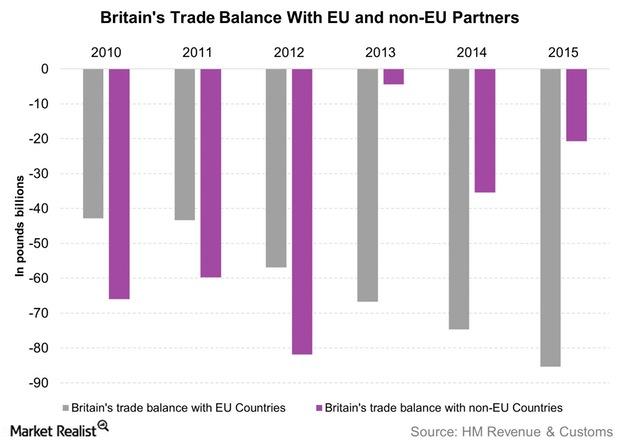 Bank of England Stands Pat on Interest Rates
By David Ashworth

Nov. 20 2020, Updated 5:21 p.m. ET
Status quo maintained
The Bank of England decided not to cut its interest rates to new record lows when it met on July 14, 2016. In the aftermath of the Brexit vote, and with a certain section of markets expecting the United Kingdom to fall into recession, the country's central bank was under pressure to act. However, its MPC (Monetary Policy Committee) voted 8-1 in favor of leaving the interest rate unchanged at 0.5%.
The 8-1 vote is a bit of a surprise considering all of the concerns regarding the impact of the Brexit vote on the United Kingdom. However, the Bank of England left the window open for a rate cut in August. The MPC noted that "most members of the committee expect monetary policy to be loosened in August."
Like other central banks, the Bank of England felt that it was too soon to determine the quantum of the rate cut and stimulus required to deal with the fallout from the Brexit vote.
Article continues below advertisement
Outlook for Europe
For now, Europe's economic outlook is worrisome. Germany's Ifo, France's INSEE, and Italy's ISTAT think that the EU will start to feel the impact of the Brexit vote in the fourth quarter this year. On a joint note, they projected that the Eurozone's economic growth would slow down to 0.3% in 4Q16 from 0.4% in 3Q16.
Meanwhile, the OECD (Organisation for Economic Cooperation and Development), which didn't publish its monthly Composite Leading Indicators due to the "leave" vote, likened the Brexit vote to an unforeseen and damaging natural disaster.
Moving forward
Countries like Norway and Switzerland (EWL) are outside the EU. They have separate agreements with EU countries (VGK) (FEZ). Although their agreements can serve as broad guides, the United Kingdom would like to push its own priorities during exit negotiations with the EU.
At the same time, Britain is looking at the possibility of the United Kingdom (EWU) breaking up. Scotland's leader, Nicola Sturgeon, wants  a referendum for Scottish independence from the United Kingdom again after 2014. The United Kingdom's new prime minister, Theresa May, said that protecting the United Kingdom from falling apart would be a "major priority" for her.
On the economic front, Credit Suisse expects the United Kingdom's economy to fall into recession next year. According to the firm, the United Kingdom's economic growth will fall 1% in 2017.
Even the Bank of Canada expects the Canadian economy (EWC) to expand by just 1.3% in 2016—compared to a projection of 1.7% growth made just a quarter ago. The central bank estimates that the Brexit vote will erase 0.1% off Canada's economic growth.
The impact of the Brexit vote has started to evolve. We'll keep you posted about developments on our Global ETFs page.