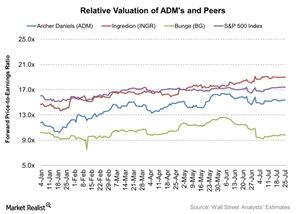 Archer Daniels Midland's Valuation before Its 2Q16 Earnings
Valuation multiple
A company's valuation multiple helps investors decide whether to enter or exit a stock. We'll use the forward PE (price-to-earnings) multiple to compare Archer Daniels Midland's (ADM) relative valuation with its peers.
A forward PE valuation multiple indicates how much an investor is willing to pay over the company's EPS for the next four quarters.
Article continues below advertisement
Archer Daniels Midland's valuation compared to its peers
As indicated in the above graph, Archer Daniels Midland is trading at a higher PE multiple of 15.3x over its forward 12-month EPS—compared to Bunge as of July 25, 2016. Analysts expect Archer Daniels Midland's adjusted EPS to fall 6% and its revenue to decline 5% in fiscal 2016.
In comparison, Ingredion (INGR) is trading at a higher forward PE multiple of 18.9x over the next 12-month EPS as of July 25, 2016. Analysts' earnings expectation is 14% for fiscal 2016. The revenue estimate is comparable to 2015. This justifies the higher PE multiple. Management also raised its earnings guidance for 2016 to $6.45–$6.75.
Bunge (BG) is trading at the lowest PE multiple of 9.8x among its peers as of July 25. Analysts expect Bunge's earnings to increase by 10% with a decline in revenue of 6% in fiscal 2016.
To gain exposure to Ingredion, you might consider investing in the PowerShares Dynamic Food & Beverage ETF (PBJ) and the iShares Morningstar Mid-Cap Value (JKI). They invest 3.4% in Ingredion.
Next, we'll look at analysts' ratings and recommendations for Archer Daniels Midland.