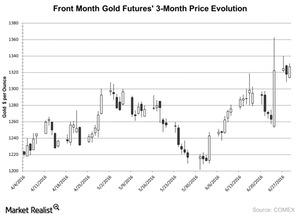 Analyzing Why the US Dollar Remains Closely Associated to Gold
By Meera Shawn

Updated
DXY rose
Precious metals and the US dollar have a close-knit relationship with each other. Since metals are priced in the dollar, a change in the US dollar could have a significant impact on precious metals. Most of the time, precious metals and the US dollar are inversely related. A fall in the US dollar is a stimulus for precious metals. This is because investors from other countries would have to invest in a cheaper dollar to buy precious metals. This would push the demand and prices would rise.
On Wednesday, the DXY Currency Index fell 0.10% and all of the precious metals rose. It isn't required that this relationship holds true over the shorter run. However, in the longer run, the US dollar and gold follow opposite routes.
The DXY index measures the dollar's strength against a trade-weighted basket of six major currencies—the euro, yen, pound, Canadian dollar, Swedish krona, and Swiss franc.
The extended white line in the above chart shows that gold's price surged tremendously as the Brexit referendum took place. After that, the prices floated a day and reversed. Once again, the gains in gold might suggest that the Market is poised for more unrest.
Article continues below advertisement
Mining funds and shares
The mining-based funds that jumped due to the rise in gold and the other three precious metals include the Global X Silver Miners Fund (SIL) and the iShares MSCI Global Gold Min (RING). These two funds rose 5.1% and 2.4%, respectively, on Wednesday.
The mining shares that also increased include Gold Fields (GFI), Agnico-Eagle Mines (AEM), and Primero Mining (PPP). These three shares rose 10.8%, 1.2%, and 4.6%, respectively.