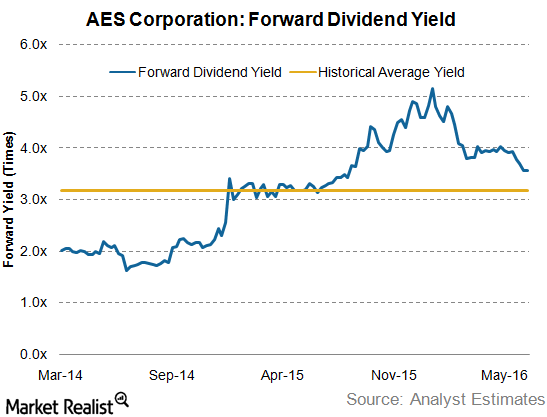 Analyzing AES Corporation's Forward Dividend Yield
AES Corporation: Forward dividend yield
AES Corporation (AES) is currently trading at a forward dividend yield of 3.6%. It is still trading well above its three-year historical average forward yield of 3.2%. AES's forward dividend yield has been falling since the start of 2016, likely because of the epic ascent of its stock. The forward dividend yield of a company is calculated by dividing its estimated one-year future dividend per share by its market price per share.
Article continues below advertisement
Peer comparison
Utilities with large contributions from competitive operations have less stable earnings and may trade at higher yields. Contrastingly, utilities with regulated operations have less volatile earnings due to their stable operations, so they tend to trade at relatively lower yields. Higher risk is generally compensated for by higher yields. Xcel Energy (XEL) and PPL Corporation (PPL) are almost entirely regulated utilities and trade at forward yields of 3.5% and 3.9%, respectively. Entergy (ETR), which has a lot of wholesale operations, is trading at a forward yield of 4.4%.
ETF exposure
The PowerShares S&P 500 High Dividend Low Volatility ETF (SPHD) tracks 50 stocks filtered from S&P 500's 75 highest-dividend-yielding stocks. AES makes up more than 2% of SPHD's total portfolio. As utilities make up nearly 19% of SPHD, it represents a strong investment alternative for conservative investors interested in fetching dividend income with a lower risk.