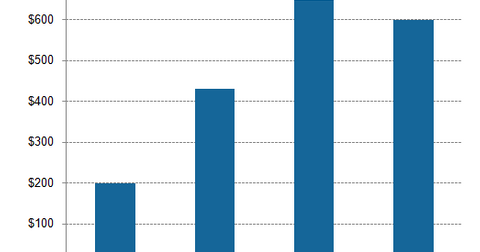 AMD's Radeon RX 480 Takes Mainstream Customers by Storm
By Puja Tayal

Updated
AMD's Radeon RX 480
In the previous part of this series, we discussed how Advanced Micro Devices (AMD) is likely to benefit from semi-custom and graphics products in fiscal 2Q16. The revenue growth is expected to be boosted in fiscal 2H16 as the company launches its first Polaris GPU (graphics processing unit), the Radeon RX 480. Polaris GPUs mark a shift from the 28-nm (nanometer) mode to Samsung's (SSNLF) and Global Foundries' 14-nm FinFET (fin-shaped field effect transistor) node.
AMD plans to launch three GPUs under the Polaris architecture. What's even more exciting is AMD's "water-drop" pricing strategy.
Article continues below advertisement
AMD's pricing strategy
On June 29, 2016, AMD launched its Radeon RX 480 GPU at the jaw-dropping price of $199. The RX 480 GPU's performance is similar to that of NVIDIA's (NVDA) GeForce GTX 980 ($629), as well as that of the Radeon R9 390X and the R9 Fury X, which are priced above $400. The Radeon RX 480 supports the Facebook (FB) Oculus Rift and the HTC Vive VR (virtual reality) headsets, making VR affordable.
AMD Radeon RX 480 is available in two variants. The 4GB (gigabyte) variant is priced at $199, and the 8GB variant is $239. In comparison, NVIDIA's Pascal GPUs, the GTX 1070 and 1080, are priced at $449 and $849, respectively. Unlike NVIDIA's Pascal GTX 1070 and 1080 Founders Editions, which are being sold at a premium, AMD's Radeon RX 480 Reference Edition is being offered at the same price as the original.
AMD's Polaris versus NVIDIA's Pascal
NVIDIA's Pascal architecture, built on TSMC's (TSM) 16-nm FinFET technology, competes with AMD's Polaris architecture. However, AMD's Radeon RX 480 does not compete with NVIDIA's GTX 1070 and GTX 1080 in terms of performance.
Cash-strapped AMD does not have sufficient resources to challenge NVIDIA's leadership in high-end discrete GPUs. AMD is bound to lose in the competition with NVIDIA, which targets the same customer base.
While AMD targets mainstream customers, NVIDIA targets gaming enthusiasts. At present, AMD aims to capture a large market share and boost revenue in order to increase liquidity and pay the interest on its $2 billion debt.
By pricing Polaris GPU at $199, AMD seeks to win the first 100 million users and increase the market penetration of VR. It is targeting more than 13.8 million customers who spend up to $300 on graphics cards, with 84% of them being triple-A-title PC (personal computer) gamers. Due to its low price, Polaris GPU is getting increasing support from struggling PC makers. We'll look at this in the next part of this series.