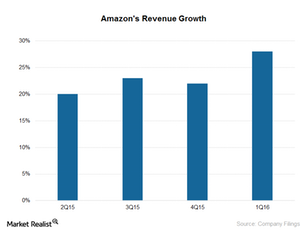 Why Amazon's Top Line Has Been Rising Consistently
Amazon's revenue is expected to remain strong
Amazon (AMZN) is expected to announce its 2Q16 earnings results on July 21, 2016. The company is guiding for a revenue range of between $28.0 billion and $30.5 billion, which translates to growth of between 21% and 32% YoY (year-over-year). This guidance includes 70 basis points of favorable impact from currency movements.
Amazon's revenue has witnessed strong and consistent growth in the past, thanks to its healthy e-commerce sales driven by its Amazon Prime membership growth. Moreover, strong revenue from the company's cloud-computing business meaningfully contributed to its overall top line.
Article continues below advertisement
Amazon Prime to drive North America and International segments' sales
The popularity of Amazon Prime in local and international markets has had a positive impact on Amazon's North America and International segments. The company plans to expand Prime to other overseas locations following its success in Japan (EWJ) and the United Kingdom.
During its last-reported quarter, Amazon's North America segment's revenue rose by 27% YoY while its International sales rose by 24% YoY. Amazon stated that its Prime subscription was one of the most important reasons behind this revenue growth.
Prime gives Amazon a competitive edge over retailers such as Walmart, eBay (EBAY), Target (TGT), and Macy's (M). The company's top line is expected to remain strong in 2Q16 given its strategic initiatives to drive membership growth.