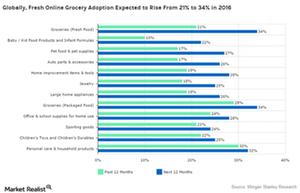 What Are Amazon's Initiatives for Driving E-Commerce Sales?
By Amit Singh

Updated
Why growing demand for online groceries will benefit Amazon
The adoption rate of fresh online grocery products is expected to rise around the world, and Amazon (AMZN) is all set to tap this growing market.
The company has announced the expansion of its fresh food delivery service in the United Kingdom. Quick delivery, low prices, and enhanced offerings are expected to accelerate online grocery adoption among shoppers, boosting e-commerce sales.
Amazon announced one-hour delivery slots to 69 postcodes in London, while the option for same-day delivery is being offered on orders placed before 1:00 PM. Meanwhile, the company will sell select items at lower prices than other supermarkets.
According to Morgan Stanley, "More than a third of online shoppers expect to buy groceries over the Internet in 2016 – 34% vs. 21% in 2015."
In a somewhat similar move, Walmart (WMT), Alibaba (BABA), and Google (GOOG) have invested in expanding their services to include the same-day delivery of fresh groceries and food.
Article continues below advertisement
India to push Amazon's growth
India (EPI) is a key market for e-commerce players around the world thanks to its rising per-capita income, increasing Internet penetration, and increasing number of online shoppers. All of these factors are likely to benefit companies' online businesses in a big way. An eMarketer report suggests that India is expected to generate strong double-digit e-commerce sales growth.
Considering the huge growth potential, e-commerce giants such as Amazon and Alibaba continue to invest heavily in India to boost their market shares. Recently, Amazon announced that it would invest an additional $3 billion in India. This announcement came after the company had committed to invest $2 billion in the country in 2014.
The Indian e-commerce market is largely dominated by local players such as Flipkart and Snapdeal. However, Amazon's huge investments are slowly paying off. Amazon has emerged as the second-largest online marketplace in India in terms of shipments. Importantly, Amazon has managed to grow its share compared to 2015, while Flipkart and Snapdeal have witnessed falls in their market shares.