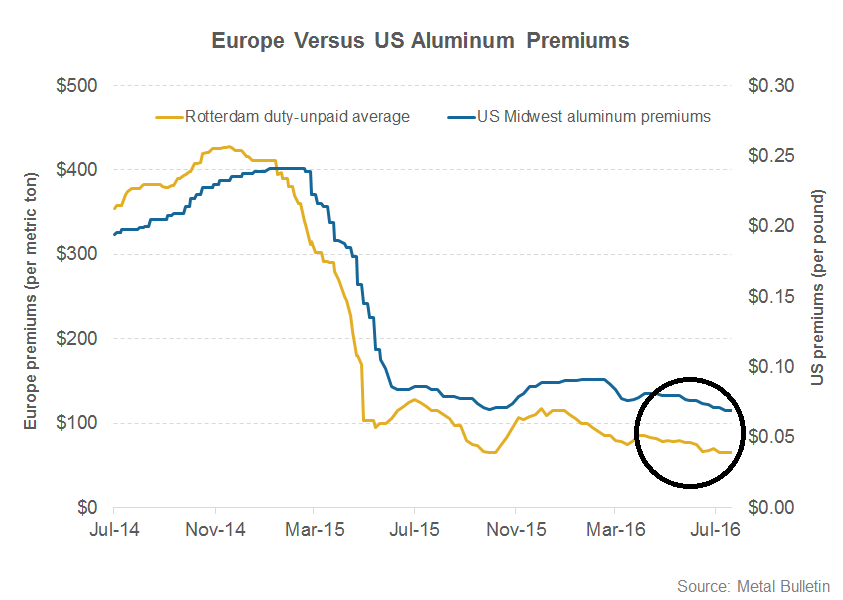 Why the Aluminum Supply Deficit Is Not Causing Premiums to Strengthen
Aluminum premiums
For aluminum producers, the all-in aluminum price consists of the aluminum price plus regional aluminum premiums. An aluminum premium is a surcharge that consumers must pay on top of prevailing prices in order to take immediate delivery of the metal from warehouses.
Aluminum premiums are a key indicator that investors in primary producers such as Aluminum Corporation of China (ACH), Norsk Hydro (NHYDY), and Rio Tinto (RIO) should track.
Article continues below advertisement
Premiums have been weak
The above graph shows the movement in spot US Midwest aluminum premiums so far this year, as reported by Metal Bulletin. US Midwest aluminum premiums are currently quoted at $0.07 per pound. Premiums have fallen slightly in July and are now down more than 22% year-to-date.
The picture looks no better in Europe, where physical premiums are almost near their all-time lows. Note that some producers such as Alcoa (AA) see physical premiums as a better reflection of aluminum markets compared to LME (London Metal Exchange) aluminum prices. Although aluminum prices have risen on a YTD basis, premiums have actually fallen.
Why the anomaly?
The weakness in aluminum premiums looks surprising given the projected deficit in aluminum markets this year. Furthermore, Chinese aluminum exports have also been in check so far in 2016.
The weakness in premiums could be attributed to aluminum inventories with non-LME warehouses. Over the last few years, official LME inventory has been falling despite the Markets being in a surplus.
A lot of aluminum is believed to have moved to non-LME locations to escape strict LME warehousing rules. Some of the aluminum from non-LME-registered warehouses could be entering physical markets, putting pressure on premiums.
Nonetheless, the projected deficit in aluminum markets would help ease the glut of the metal created over the last decade. Note that Alcoa's upstream business would stand to gain from improved commodity market (DBC) conditions once it is listed as a separate company later this year.
You can read What Investors Should Know about Alcoa's Upcoming split to see how the two new companies would look after the split.
You can also visit our Aluminum page for other recent developments in this industry.