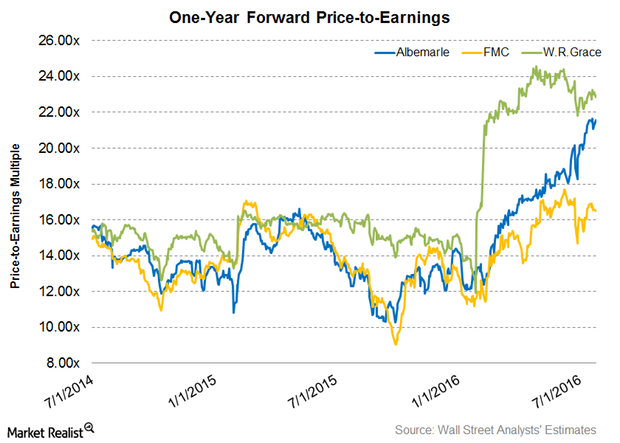 Albemarle's Valuations Ahead of 2Q16 Earnings Release
By Peter Neil

Aug. 3 2016, Updated 9:05 a.m. ET
Albemarle's forward price-to-earnings
Forward PE (price-to-earnings) is a good relative valuation method that considers the company's future earnings for calculation. In the past two years, Albemarle (ALB) has been trading at a one-year forward PE multiple of 10.3x–21.60x. As of July 26, 2016, Albemarle was trading at a one-year forward PE multiple of 21.5x. Peers FMC (FMC) and W.R. Grace (GRA) are trading at one-year forward PE multiples of 16.5x and 22.8x, respectively.
Article continues below advertisement
Forward PE ratio tells how much investors are paying per dollar of expected earnings in the next 12 months. Using PE ratio, investors can compare two or more companies that operate in the same industry and decide which stock is overvalued or undervalued. However, PE ratio is only one valuation metric, and a decision should not be made to buy or sell a stock based solely on this metric due to its limitations.
EV-to-EBITDA
The EV-to-EBITDA (enterprise value to earnings before interest, tax, depreciation, and amortization) multiple is an important relative valuation multiple. It's widely used in capital-intensive industries such as the chemical industry. This multiple also considers debt for calculation, so it's a better metric than PE ratio.
As of July 26, 2016, Albemarle's one-year forward EV-to-EBITDA ratio stood at 13.1x. FMC's and GRA's forward EV-to-EBITDA ratios were 10.9x and 12.6x, respectively. This multiple is calculated based on a company's estimated EBITDA for the next 12 months.
Investors can hold Albemarle indirectly by investing in the iShares Russell Mid-Cap (IWR) and the iShares S&P 500 Value (IVE), which have weights of 0.16% and 0.1%, respectively, in Albemarle as of July 26, 2016.