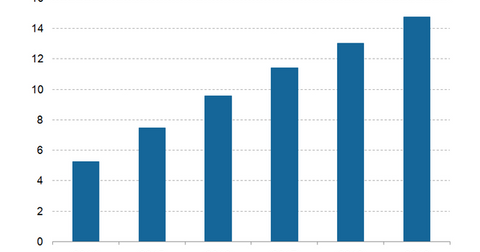 Why Did YouTube Introduce Live Video Streaming Feature?
By Shirley Pelts

Updated
YouTube's live video streaming feature
The live video streaming trend seems to have picked up very quickly over the last few months. A few days ago, The Wall Street Journal reported that Alphabet's (GOOG) YouTube will also offer live video streaming and hosting of videos through the YouTube app (application) on Apple's (AAPL) iPhone and Android mobile phones. With the live video streaming feature, YouTube has joined Facebook (FB) and Twitter (TWTR) with its Periscope feature for live videos.
Article continues below advertisement
YouTube's live video streaming feature will be used by YouTube's select celebrities and some YouTube channels at VidCon in Anaheim, California, before being rolled out for users. YouTube first introduced the live video-streaming feature in 2011, but it required a laptop equipped with a webcam. This feature can now be used on mobile phones through the YouTube app.
It's not yet clear whether YouTube will allow ads embedded in these live videos. But if YouTube does allow ads, it will be able to effectively monetize this feature.
Video will drive future ad revenues
As advertisers shift toward the online platform, especially video, the video ad market could grow rapidly. According to a report from eMarketer and as the graph above shows, US (SPY) digital video ad spending could grow from $5.2 billion in 2014 to $14.8 billion in 2019. That's a healthy CAGR (compound annual growth rate) of 23%.
YouTube leads the pack, but Facebook and Twitter are also becoming more aggressive in leveraging this fast-growing market.
Alphabet makes up 1.5% of the SPDR S&P 500 (SPY) ETF. SPY has an exposure of 3.4% to the computers sector.