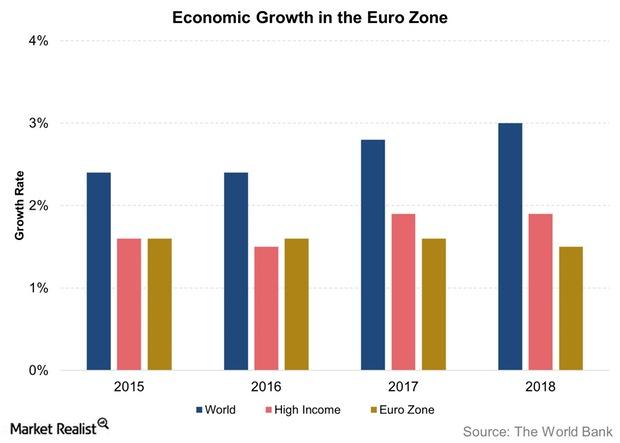 Inside the World Bank's Growth Expectations for the Eurozone
By David Ashworth

Dec. 4 2020, Updated 10:53 a.m. ET
More downward revisions
The World Bank has downwardly revised its expected growth rates for the Eurozone through 2018. It expects the region to grow at a rate of 1.6% in 2016 and 2017—the same pace at which the region's economy grew last year, though 0.1 percentage point lower than what it projected in January.
Article continues below advertisement
Current drivers
Describing economic growth in the Eurozone as "moderate," the World Bank stated that economic recovery in the region is being supported by "exceptional" monetary policy measures, low crude oil prices, and somewhat expansionary fiscal policies.
At the same time, the report outlined the challenges in the region, including weak external demand (which translates into poor exports), renewed domestic uncertainties, and geopolitical risks. These attributes are hurting both economic activity as well as business and consumer confidence, the World Bank said.
The bank was positive about private consumption in the Eurozone, however, and seemed hopeful that along with an improved labor market and low fuel prices, the region will be able to consolidate gains.
Other geographies
The latest World Bank report was also of the view that though the region has seen some progress, recovery will continue to be restrained compared to that of the US and the UK. It noted that the migration crisis, in particular, being faced by the Eurozone is quite challenging.
Investment impacts
A major event for the region, of course, is the upcoming vote on "Brexit," or the UK's (EWU) proposed exit from the European Union. The vote is only a few days away and can be expected to cause volatility across financial markets (EWQ) (EWP) (EWG).
For the long term, investors should be cautious about the effectiveness of monetary policies. Unprecedented policy measures have already been taken, and the deposit rate is already deep into negative territory. Several nations (EWL) have their key interest rates in negative territory as well, and without structural reforms and substantial support from expansionary fiscal policies, Europe may find it hard to compete with other advanced economies. This will reflect in its financial markets (DBEU) (EZU) also, with investors preferring the US over Europe.
Now let's move to Japan.