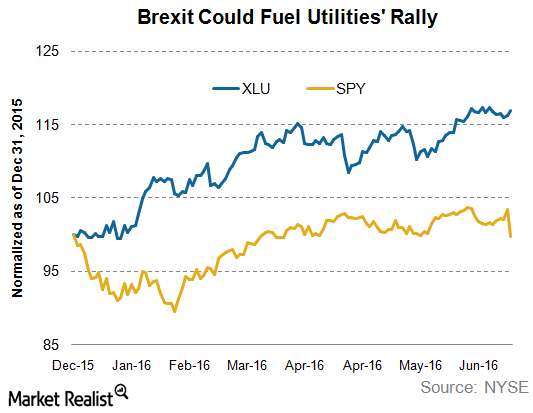 Will US Utility Mergers and Acquisitions Increase after Brexit?
Safe-haven utilities
Investors may prefer to remain safe during turbulent times and could turn to utilities as Brexit becomes a reality. The S&P 500 Utilities Index rose by 0.9% on June 24, 2016, while broader equities plummeted by 2.9%.
Utilities are generally considered to be bond proxies. US utilities currently yield 3.5%, much more than other industries and even Treasuries. So, utilities could continue to rescue investors in a volatile equity environment.
Article continues below advertisement
Utilities ahead
Utilities' average price-to-earnings ratio for the next year has already crossed 18x, an all-time high. Still, the sector is expected to attract investors, considering its stable earnings and increasing dividends. The sector has benefited from the slower-than-expected rate of interest rate hikes.
Interestingly, Brexit could further delay the Federal Reserve's rate hike, which could benefit utilities even more. On the other hand, utilities' valuations could rise to record highs.
The stronger dollar (UUP) could cause large US-regulated utilities to seek mergers and acquisitions. Brexit could weaken emerging markets' currencies compared to the US dollar, which could lower the valuations of emerging market utilities, making them attractive for US utilities (FXU).
The US utilities industry has long been struggling against slow demand and low power prices. Many utilities companies (PPL) (DUK) have divested their riskier merchant generations and non-utility business units to reduce earnings volatility.
Notably, the sector's financial risk is inclined downward in the long term, which bodes well for conservative investors.