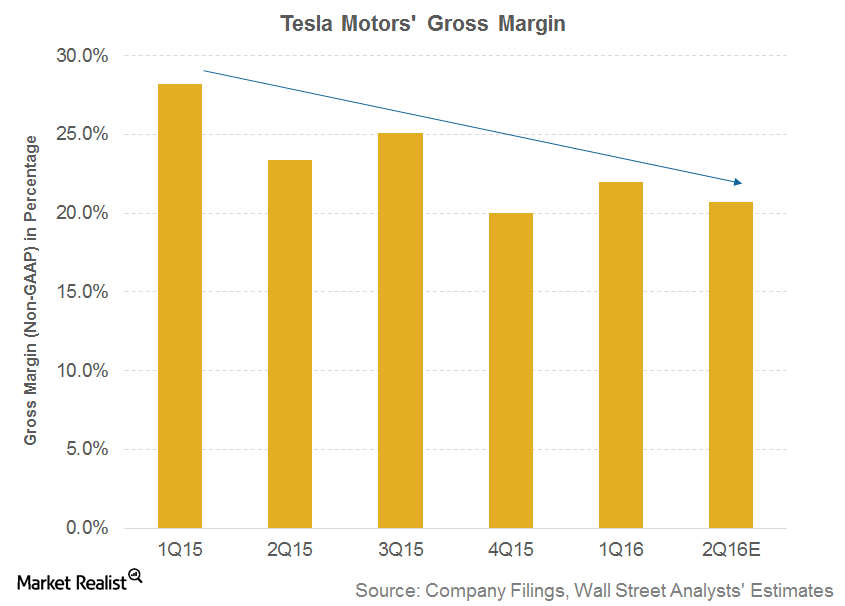 Will Tesla Be Able to Protect Its Margins in Coming Years?
Recent margins
Previously, we looked at how Tesla (TSLA) has been able to grab the attention of mainstream automakers with a small but effective product lineup. Meanwhile, the company has maintained industry-leading gross margins. But can it continue?
Article continues below advertisement
Why Tesla's margins are shrinking
In 1Q16, Tesla Motors (TSLA) reported a gross margin of 22% on a GAAP (generally accepted accounting principles) basis and 21.7% on a non-GAAP basis. This was much lower than its 27.7% GAAP gross margin and its 28.2% non-GAAP gross margin in 1Q15. In this part of the series, we'll see why Tesla's gross margins declined in 1Q16.
According to the company, 1Q16 gross margins declined "due to an increase in the delivery mix of Model X, which carries a lower margin during its ongoing production ramp phase."
This was not the first occasion when Tesla's has reported shrinking margins. Notably, in the last several quarters, Tesla's gross margins have declined due to the stronger US dollar and an unfavorable product mix. The company's product mix was unfavorable due to increased deliveries of low-priced 70 kWh (kilowatt-hour) variations of the Model S.
But Tesla's gross margins are still much higher than those of other mainstream automakers (VCR). In 1Q16, General Motors (GM) and Ford (F) reported gross margins of 17.9% and 18%, respectively.
In coming years, as Tesla produces its Model 3, it could become a challenge for the company to protect its margins. This is because Model 3 will be sold at a much lower price than its other car models so far.
Article continues below advertisement
Tesla's plan to protect margins
It's important to note that most of the technology that Tesla is going to build Model 3 with has been already developed and used by the company in its earlier models. So the company's prime focus will be on minimizing costs. The company aims to achieve this cost reduction by mass producing its vehicles, and this should reduce fixed costs, such as plants and machinery per vehicle.
Another significant cost involved in electric vehicle production is the cost of battery packs. Tesla's Gigafactory is expected to reduce battery pack costs by 30% and should also help the company protect its margins further.
We should note here that it's a challenging task for an automaker to maintain high margins on electric vehicles. According to a recent report from Reuters, Sergio Marchionne, Fiat Chrysler's (FCAU) CEO, stated about the company's electric vehicle, Fiat 500e, that "I hope you don't buy it because every time I sell one it costs me $14,000."
This statement reflects the difficulties faced by automakers in protecting their margins from their electric vehicles. Notably, Fiat 500e's MSRP (manufacturer's suggested retail price) starts at $31,800 in the US, and it's currently available only in California and Oregon.
Tesla is likely to organize the grand opening event of its Nevada-based Gigafactory on July 29, 2016. Investors can read what to expect from this event in our series Tesla Gigafactory: Is It Tesla's Key to Success?