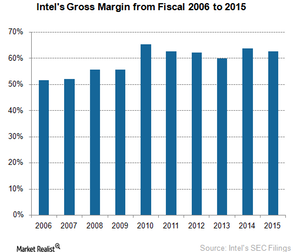 Will Slowdown in Moore's Law Affect Intel's Leadership?
By Puja Tayal

Jun. 20 2016, Updated 8:08 a.m. ET
Shrinking process node improves gross margin
In the previous part of the series, we saw that Intel (INTC) develops both microprocessors and manufacturing nodes. With every node reduction, cost per bit falls, thus improving the company's gross margins. Gross margin is the profit margin achieved after deducting the cost of goods sold from revenue.
Intel successfully implemented Moore's law to the 22-nm (nanometer) node, which is visible in the company's gross margins. After every two years, gross margins improved. Gross margin rose from 51.5% in 2006 to 55.5% in 2008 to 65.3% in 2010. However, gross margin fell to 62.1% in 2012 as the cost benefit slowed after the company moved to 22-nm. Later, the gross margin improved to 63.7% in 2014 as the company moved to 14-nm.
As per Moore's law, the next 10-nm node should arrive by the end of 2016. However, Intel has delayed the launch of the 10-nm to late 2017 due to technical difficulties.
Article continues below advertisement
Competition picks up
Until now, Intel has been ahead of its competitors in terms of the process node. The slowing of Moore's law for Intel will enable competitors to catch up and reduce the technology gap. While Intel's 10-nm is expected to come by the end of 2017, IBM (IBM) announced in 2015 that it has developed the world's first 7-nm chip.
TSMC (TSM) has developed its 10-nm node and plans to start production on this node in 2016. Samsung (SSNLF) is also moving fast and plans to launch its 10-nm in 2016 as well. It has already started production on its 14-nm node.
Intel's take on competitors' process nodes
At the Sanford C Bernstein Strategic Decisions Conference 2016, Intel CEO, Brian Krzanich, stated that process leadership is measured in two ways: cost per transistor and performance per watt. He added that many competitors don't expect much improvement in the performance from 10-nm and are banking on 7-nm for improved performance.
However, Intel aims to bring a 10%–20% improvement in performance with every shrink in the node. This would put Intel ahead of competitors' technology.
As we know, Intel is into both designing and manufacturing semiconductor chips for several electronic devices. It has exposure to various opportunities and risks in various stages of the supply chain from suppliers to competitors to end users. We'll discuss this in the next part of the series.
The iShares Russell 1000 Value ETF (IWD) has holdings in large-cap US equities across various sectors. It has 1.4% exposure to INTC and 0.61% exposure to IBM.