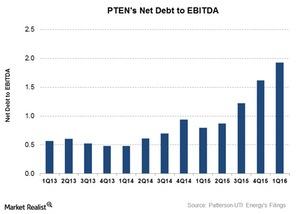 Could Patterson-UTI Energy Violate Debt Covenants in 2Q16?
Patterson-UTI Energy's net debt-to-EBITDA
Patterson-UTI Energy's (PTEN) net debt-to-TTM (trailing-12-month) EBITDA (earnings before interest, tax, depreciation, and amortization) trended upwards from fiscal 2Q15 through fiscal 1Q16. In 1Q16, Patterson-UTI Energy's net debt-to-EBITDA was 1.9x, or 142% higher than a year ago.
Net debt-to-EBITDA reflects how easily a company can repay its debts from its operational earnings and available cash. Peer Dril-Quip's (DRQ) net debt by the end of fiscal 1Q16 was a negative $423 million, compared with PTEN's $655 million. Dril-Quip has zero long-term debt and a positive cash balance, resulting in a negative net debt. PTEN makes up 0.6% of the WisdomTree SmallCap Dividend ETF (DES). For investors looking for some exposure to the energy sector, energy makes up 4.3% of DES.
Article continues below advertisement
Patterson-UTI Energy's debt
PTEN's net debt-to-TTM EBITDA multiple decreased sharply in fiscal 1Q15 before rising as fiscal 1Q16 approached. In fiscal 1Q16, its total debt decreased by 4% from fiscal 1Q15 to $842 million. Cash and marketable securities increased significantly during the same period, leading to a 17% lower net debt. However, PTEN's TTM EBITDA decreased 66% during the same period. In effect, the net debt-to-EBITDA ratio rose significantly.
PTEN's restrictive debt covenants
As of March 31, 2016, PTEN had a $65 million debt under a senior unsecured term loan. The term loan agreement requires quarterly compliance with two financial covenants:
PTEN's debt to capitalization ratio cannot exceed 45%
PTEN's interest coverage ratio must be less than 3.0 to 1.0
Failure to comply with these covenants will restrict PTEN's ability to make restricted payments, including dividend payments. Next, we'll discuss Patterson-UTI Energy's free cash flow.