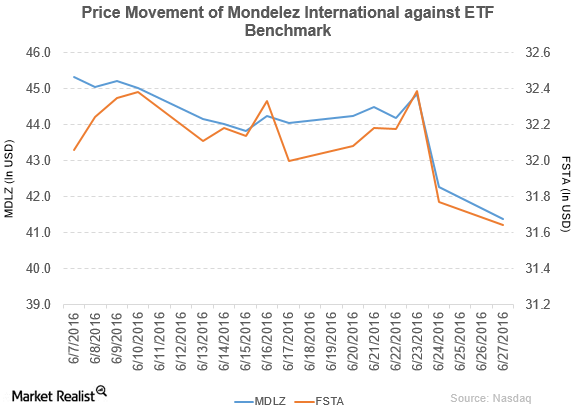 Why Will Mondelez International and Kraft Heinz Face a Lawsuit?
By Gabriel Kane

Jun. 30 2016, Updated 11:07 a.m. ET
Price movement
Mondelez International (MDLZ) has a market cap of $64.2 billion. Its stock fell by 2.1% to close at $41.38 per share on June 27, 2016. The stock's weekly, monthly, and YTD (year-to-date) price movements were -6.4%, -6.7%, and -7.3%, respectively, on the same day. MDLZ is trading 7.1% below its 20-day moving average, 5.9% below its 50-day moving average, and 3.3% below its 200-day moving average.
Article continues below advertisement
Related ETF and peers
The Fidelity MSCI Consumer Staples Index ETF (FSTA) invests 3.6% of its holdings in Mondelez International. The ETF tracks a market cap–weighted index of stocks in the US consumer staples sector. The YTD price movement of FSTA was 5.1% on June 27.
The market caps of Mondelez International's competitors are as follows:
Mondelez International and Kraft Heinz's case will go further
In a press release on June 27, Reuters noted, "A federal judge in Chicago refused to dismiss a lawsuit in which wheat futures and options traders accused Kraft Heinz Co. and Mondelez International Inc. of legally manipulating the grain's price at their expense."
The press release also noted, "US District Judge Edmond Chang said traders may pursue claims that a large and, in their view, unnecessary late 2011 purchase by Kraft Foods Inc. of wheat future contracts violated the Sherman antitrust law and the Commodity Exchange Act."
Reuters also stated, "Chang also dismissed claims that the defendants conducted offsetting 'wash trades' over roughly a decade to create an illusion of greater market activity. He said the traders can try to bring those claims again."
Per Mondelez International, "Any court-ordered fine or settlement would not be material to investors."
Article continues below advertisement
Mondelez International's performance in fiscal 1Q16
Mondelez International reported fiscal 1Q16 net revenues of $6.5 billion, a fall of 16.8% compared to net revenues of $7.8 billion in fiscal 1Q15. Revenue from Latin America; Asia Pacific; Eastern Europe, the Middle East and Africa; Europe; and North America fell 35.0%, 2.3%, 21.3%, 23.1%, and 0.4%, respectively, in fiscal 1Q16 compared to fiscal 1Q15.
The company's gross profit margin rose 3.7%, and its operating income fell 11.0% in fiscal 1Q16 compared to the prior year. Its net income and EPS (earnings per share) rose to $554.0 million and $0.35, respectively, in fiscal 1Q16 compared to $324.0 million and $0.19, respectively, in fiscal 1Q15.
Mondelez International's cash and cash equivalents fell 28.4%, and its inventories rose 5.6% in fiscal 1Q16 compared to fiscal 4Q15. Its current ratio fell to 0.68x, and its debt-to-equity ratio rose to 1.3x in fiscal 1Q16 compared to 0.82x and 1.2x, respectively, in fiscal 4Q15. The company has repurchased ~$1.2 billion of its common stock at an average price of $41.04 per share. 
Article continues below advertisement
Quarterly dividend
Mondelez International has declared a regular quarterly dividend of $0.17 per share of its Class A common stock. The dividend will be paid on July 14, 2016, to shareholders of record at the close of business on June 30, 2016.
Projections
The company has affirmed the following projections for fiscal 2016:
organic net revenue growth of at least 2%
adjusted operating income margin of 15%–16%
adjusted EPS growth in double digits on a constant-currency basis