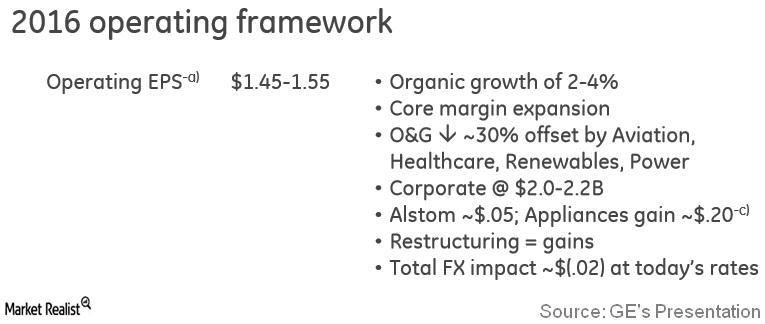 Will General Electric Maintain Guidance for Fiscal 2016 after Q2?
By Jessica Stephans

Jun. 30 2016, Updated 12:44 p.m. ET
General Electric to report its 2Q16 earnings on July 22
General Electric (GE) is scheduled to release its 2Q16 earnings on July 22. The release will contain key financial and operating metrics from April 1 through June 30.
Several other industrial (XLI) conglomerates, such as Honeywell International (HON), 3M (MMM), and Illinois Tools Works (ITW), are supposed to report their earnings in the second half of July. Honeywell International will release its quarterly results on July 22, 3M Co will report its results on July 26, and Illinois Tools Works (ITW) will release its results on July 20.
Article continues below advertisement
What should investors look for in GE's 2Q16 results?
In GE's 2Q16 results, investors should closely watch for organic growth in revenues for the industrial segment. At the same time, industrial segments margins should play an important role in a slow-growth environment. Will GE be able to beat its performance as well as maintain its guidance for fiscal 2016? Let's take a closer look in this series.
General Electric's business so far 
GE's 1Q16 earnings were largely in line with markets expectations. The company's industrial (industrial plus vertical) revenues grew 6%. However, industrial operating profits fell 3% year-over-year, disappointing Wall Street. On a positive note, GE hasn't changed its earnings estimate of ~$1.45 to $1.55 per share for fiscal 2016. Moreover, GE's industrial segment margins were at 14.5% (+60 basis points, excluding foreign exchange) versus 14.6% in 1Q15. In a slow-growth environment, GE has performed well.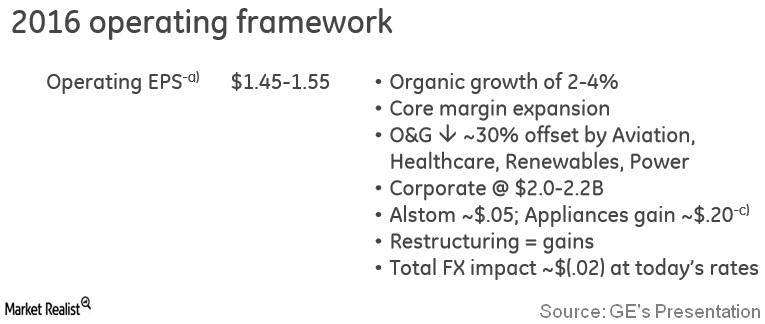 Over five years, General Electric's revenues have fallen 4.9% on a CAGR (compound annual growth rate) basis. Its adjusted EPS (earnings per share) decreased by a CAGR of 7.9% over the last five years.
This decline is largely due to GE's refocusing on industrials and its plans to substantially reduce its dependence on the financial services (XLF) business.
You can read about GE's transformation toward industrials our series General Electric Is Pivoting Back to Industrials—But Why?
Now let's take a look at General Electric's future. In the next part of this series, we'll cover market expectations for the company.