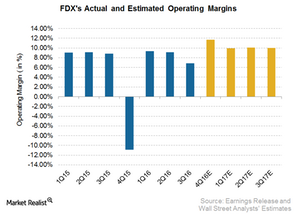 Will FedEx Be Able to Expand Its Operating Margins in Fiscal 4Q16?
By Samuel Prince

Jun. 16 2016, Updated 9:06 a.m. ET
FedEx operating margins in fiscal 4Q16
Wall Street analysts are expecting FedEx's (FDX) operating margin to hit 11.7% in fiscal 4Q16, as compared to an actual margin of -10.9% in fiscal 4Q15. On a YoY (year-over-year) basis, analysts are anticipating an operating margin of 9.9% and 10.1%, respectively, for fiscal 2016 and fiscal 2017, which end on May 31, as compared to an actual margin of 3.9% in fiscal 2015.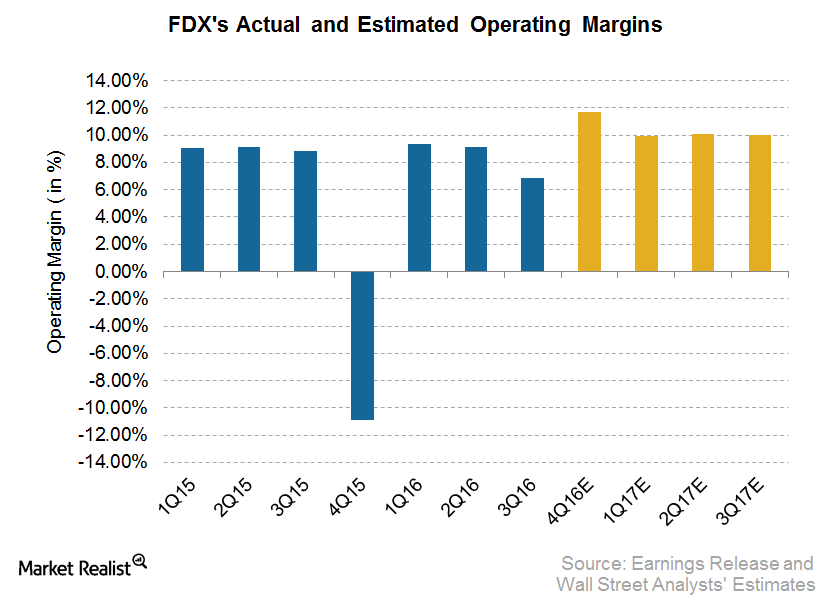 Article continues below advertisement
Should we expect higher operating margins?
The margins of express delivery companies like FedEx could expand due to increased rates in 2016. And customers for FDX include retail customers who have to bear the incremental charges—unlike their corporate counterparts. Investors should thus keep in mind that large contract accounts are offered significant discounts based on their commitments for certain freight volumes.
In addition to increasing rates, FDX is updating surcharges on big packages, which should boost overall margins. However, the e-commerce spur is leading to fast growth in the business-to-consumer, or B2C, segment, where margins are typically lower. As of June 1, 2016, FedEx has raised its surcharge to include a handling fee on packages longer than 48 inches, as compared to the prior threshold limit of 60 inches.
According to the FedEx Shipping Fee Information guide, this will add a $10.50 surcharge to any item that is longer than 48 inches along its longest side. But it's unclear whether UPS and the United States Postal Services will follow suit.
Innovation
Apart from surcharges, technological innovation can be a game changer for the big hitters like FedEx in the multibillion-dollar parcel delivery industry.
By comparison, small parcel couriers are relying on technology to drive margins and service levels higher. But operating margins for such companies may be impacted by integration risks faced by FDX with its TNT Express acquisition in the near future.
Peer group operating margins
FedEx's management expects to execute a range of profitable initiatives going forward. Its network flexibility should aid solid peak-season operations. The company's long-term financial goals include a 10% operating margins. FDX expects its fiscal 4Q16 FedEx Express margins to reach ~12%.
Analysts are expecting UPS's operating margins of 13.4% and 13.6% for fiscal 2016 and fiscal 2017, respectively. The following is a breakdown of peer group margins, as expected by analysts, for 2016 and 2017, respectively:
Old Dominion Freight Line (ODFL)—16.21% and 16.98%
YRC Worldwide (YRCW)—3.3% and 3.6%
XPO Logistics (XPO)—3.5% and 4.2%
Investors interested in the transportation space can consider the iShares US Industrials ETF (IYJ), which holds 4.25% of its total holdings in major US courier companies.
Now let's take a look at FedEx's proposed capital spending.