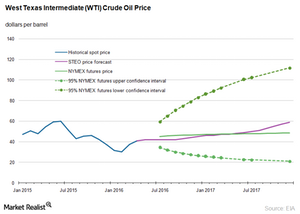 Will Crude Oil Prices Test $60 per Barrel?
Crude oil prices could rise  
OPEC (Organization of the Petroleum Exporting Countries), the EIA (U.S. Energy Information Administration), the IEA (International Energy Agency), and Goldman Sachs estimate that the global oversupply of crude oil will diminish in 2016. Read Will Crude Oil's Supply and Demand Balance Narrow or Widen? to learn more.
Article continues below advertisement
Bullish crude oil price forecast  
Bloomberg reported that hedge funds and speculators' short positions are at the lowest level in a year. This suggests that bearishness about oil prices is reducing. Banks like Standard Chartered and SEB Bank forecast that Brent crude oil will hit $60 before the end of 2016. Meanwhile, the United Arab Emirate's economic minister, Sultan Bin Saeed Al Mansoori, said that oil prices could hit $60 per barrel or more this summer. A Wall Street Journal survey reported that many investment banks raised their price targets for Brent crude in 2016 by $2 on average in May 2016—compared to the April 2016 forecasts.
Article continues below advertisement
Bearish crude oil price forecast 
On the other hand, BNP Paribas predicts that Brent crude oil prices could trade between $35 and $40 per barrel in 2016 due to a stronger dollar, oversupply, and near-record US crude oil inventories. Bank of America Merrill Lynch predicts that a strong dollar could pressure oil prices. Some traders think that supply outages in Canada and Nigeria are temporary. The restart of crude oil production from these countries could see oil prices decline. A Wall Street Journal survey projects that crude oil will trade at $48 per barrel in 4Q16.
The roller coaster ride in crude oil prices impacts oil and gas exploration and production companies like Stone Energy (SGY), Sanchez Energy (SN), Bonanza Creek Energy (BCEI), and Carrizo Oil & Gas (CRZO). Its also influences ETFs and ETNs like the ProShares UltraShort Bloomberg Crude Oil (SCO) and the PowerShares DWA Energy Momentum ETF (PXI).
For related analysis, visit Market Realist's Energy and Power page.