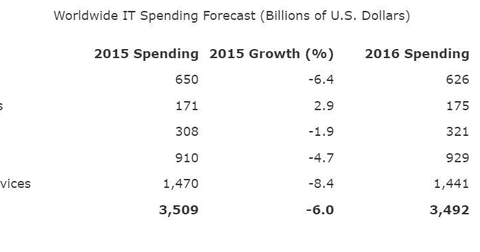 Will Brexit Impact Information Technology Spending?
By Anne Shields

Jul. 5 2016, Updated 10:06 a.m. ET
Brexit is likely to negatively impact companies' margins
So far in this series, we've tried to understand the impact of Brexit on the global technology space. A majority of technology players have voiced their opinions that the United Kingdom should remain in the European Union (or EU).
Microsoft (MSFT) has stated that Brexit will make it less likely to invest more in the United Kingdom. In April 2016, David Stokes, IBM's (IBM) UK chief, stated, "As a large, globally integrated business with a strong presence across the European Union, IBM sees significant benefits from EU economic integration."
Article continues below advertisement
Brexit is likely to negatively impact the profit margins of many companies operating in the United Kingdom due to an increase in labor costs, an oversupply in some skills, and a shortage in others. This will cause UK businesses to curtail their budgets and look for cheaper and more cost-efficient options.
UK and Europe IT spending will suffer
In early 2016, IDC (International Data Corporation) stated that economic instability in emerging markets (EEM) and smartphone saturation would see a major global slowdown in IT (information technology) spending in 2016.
Funds that were earlier directed toward on-premise IT hardware and services have now shifted to cloud infrastructure. This explains why Microsoft, Oracle (ORCL), IBM, and SAP (SAP) are directing significant amounts of their funds toward the cloud space.
Article continues below advertisement
Brexit marked a historical event as the United Kingdom opted to leave the EU, a 28-country union. Brexit will increase political volatility, thereby altering the financial and political landscape. Increased volatility is bound to lead to a fall in business confidence and a price increase. As a result, companies, vendors, and technology purchases will be impacted by Brexit in the near future.
According to John-David Lovelock, Gartner's research vice president, "In the wake of the U.K.'s exit from the EU, some new larger, long-term strategic projects will now be put on pause and likely not restarted until 2017 when the outlook with the U.K. outside the EU becomes clearer."
Lovelock expects the current growth forecast for UK IT spending of 1.7% to fall by 2%–5%. This translates to negative UK IT spending growth post-Brexit in 2016. Gartner stated, "A trickledown effect will occur, and IT spending in Europe will undoubtedly be impacted." It's estimated that Western Europe's expected growth rate of 0.2% in 2016 will also be negative.
Gartner's estimates show that global IT spending fell by 5.8% toward the end of 2015. This was the largest fall since the financial crisis of 2007–2008. However, Gartner expects that Brexit won't have a major impact on worldwide IT spending growth. Its current 1.5% growth is likely to remain above 1%.