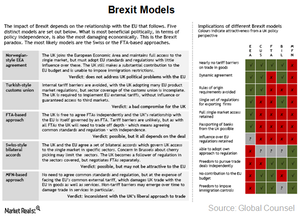 How Will Brexit Impact Britain's Economy?
By Puja Tayal

Updated
Impact on Britain's economy
In the previous part of the series, we saw that Britain (EWU) had voted to exit the EU (European Union) and that this process would take a minimum of two years to materialize. In the interim, Britain will continue to be subject to EU treaties and regulations, but it will lose its decision-making powers.
Before we look at the impact of Brexit on the semiconductor industry, let's first look at the economic scenarios in Britain and Europe.
Article continues below advertisement
The vote in favor of Brexit was followed by the resignation of UK prime minister David Cameron. The task of exiting the EU will be carried out by the new prime minister, who will be elected by October 2016. The new government will have to undertake three acts simultaneously: negotiating a deal with the EU, forming new rules that will replace the EU's rules, and signing new bilateral trade deals with other countries.
Brexit could have a negative or a positive impact. The uncertainty created due to the process could weaken business confidence and delay foreign direct investments in Britain, or it could help the country to "expand trade relations with the rest of the world beyond EU," according to Frost & Sullivan senior partner and managing director for Europe Sarwant Singh.
Article continues below advertisement
Which Brexit model will Britain adopt?
Immediately after the exit, Britain could go into recession as its currency falls. Under such a scenario, Britain could adopt one of two broad models as stated by General Counsel.
The first model is the one adopted by Norway and Switzerland, wherein Britain will not be a part of the EU bloc but will maintain free trade relations with them. However, this would mean free immigration from the EU bloc and acceptance of the EU's business rules, destroying the very purpose of Britain's exit from the bloc.
Another model is one wherein Britain isolates itself from the EU and works independently. This would mean that common external tariffs would apply to Britain and hamper its trade with the bloc.
Impact on businesses
In the event that Britain adopts the second model, foreign businesses that trade in the EU through their UK headquarters will be affected. These businesses may move fast and look to set up offices in EU countries where they can enjoy free trade across the bloc.
However, this would not impact semiconductor companies such as Intel (INTC), Qualcomm (QCOM), NVIDIA (NVDA), and Texas Instruments (TXN), as they have offices in Britain as well as other EU countries such as Germany and the Netherlands.
In the next part of this series, we'll look at the semiconductor industry's exposure to Europe and Britain and the impact of new trade agreements on semiconductor end consumer markets.