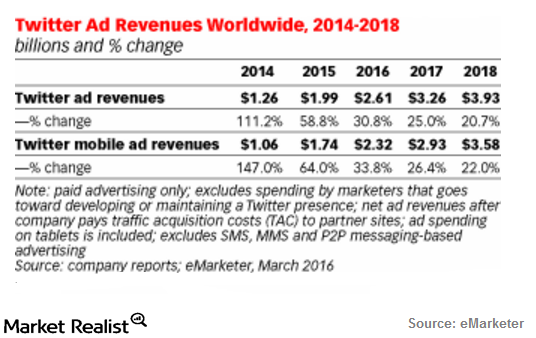 Will 2016 Be Another Tough Year for Twitter?
Why eMarketer lowered its growth forecast for Twitter
Previously in this series, we highlighted how Twitter's (TWTR) stalled use base is taking a toll on its ad revenues. To add to this, market research firm eMarketer lowered its growth forecast for Twitter's ad revenues.
Citing Twitter's stagnant user growth, eMarketer stated that it expects Twitter to generate ~$2.6 billion in worldwide ad revenues, lower than its earlier forecast of ~$3.0 billion that eMarketer predicted in 3Q15.
According to eMarketer, "Twitter will generate nearly 90% of its revenues, or $2.32 billion worldwide, from mobile this year. That is an adjustment from $2.62 billion forecast in Q3."
The company also lowered its estimates for the number of US Twitter users aged 12–24 years and 65 years and older, since Twitter's total users have also been adjusted downward.
Article continues below advertisement
Twitter is not growing like its rivals
Twitter is losing out on competition. The company's uptake among younger users remains poor when compared with Snapchat and Facebook's (FB) Instagram. Snapchat is growing in popularity, and its daily users have surpassed Twitter's daily users. Plus, eMarketer highlighted that Snapchat could have more US (SPY) users than Twitter and Pinterest by the end of 2016.
In terms of ad revenues, Twitter is lagging behind many of its competitors. According to eMarketer, Google (GOOG) and Facebook remain the dominant players in the digital ad space by net revenues, followed by Baidu (BIDU) and Alibaba (BABA).