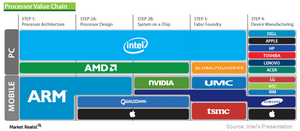 Why Intel Missed Out on the Mobile Revolution
By Puja Tayal

Updated
Intel in the mobile market
In the last few parts of the series, we saw that after enjoying the PC revolution for almost two decades, Intel (INTC) is now plagued by slowing PC sales. Despite this, the computing segment continues to be the company's most profitable segment. The mobile revolution, which started in 2007 with Apple (AAPL) and Samsung's (SSNLF) smartphones, slowly ate up PC sales used for small day-to-day activities such as accessing the Internet.
Intel could have tapped the mobile revolution, but it sold its RISC-based (reduced instruction set computing) architecture division to Marvell (MRVL) in 2006 for $600 million. This architecture was ideal for mobile phones like BlackBerry (BBRY) phones. Thus, Intel missed the mobile revolution.
Article continues below advertisement
Competition in mobile space
Qualcomm (QCOM) took the helm and tapped the mobile revolution with its ARM-based processors to become the largest mobile semiconductor company in the world. Even NVIDIA (NVDA) took its share of SoCs (system-on-chip) with its Tegra processors. However, it could not compete with Qualcomm's SoCs. Thus, it divested in the Icera mobile division in 2015.
In 2015, Samsung and Apple also started building mobile SoCs in-house. Samsung built its Exynos SoC at its fabrication facility and Apple built its A9 and A10 processors at TSMC's (TSM) foundry.
Intel's efforts in the mobile space
Intel tried to leverage its x86 architecture for mobile with its SoFIA Atom X3 processors, but they failed to deliver a similar performance compared to ARM processors. Thus, Intel's Atom processors were left to serve low-end phone makers such as Taiwan's (EWT) Asustek.
The company also tried to grow in the mobile space by acquiring required intellectual property. It acquired Infineon's wireless baseband division for cellular modem/RF capability, Silicon Hive for its image signal processor capabilities, and Via Technologies' CDMA (code division multiple access) modems. The company spent a huge amount on product research and development.
Contra revenue strategy
The company resorted to a strategy of contra revenue under which it sold its tablet processors at a heavy discount to tap the market share. After spending more than $10 billion in the mobile segment and suffering a loss to the tune of $4 billion, the company withdrew contra revenue in 2015 and merged its mobile unit with its profitable PC unit.
However, the spending on the mobile segment negatively impacted Intel's earnings. We'll look into this in the next part of the series.