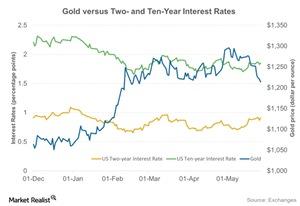 Why Gold Is Closely Tied to Interest Rates
Interest rates and gold
Investors closely eye employment figures, as they are indicative of the economic health of a country. The US's economic health determines whether the Federal Reserve Open Market Committee (or FOMC) can hike the rate at its next meeting. The possible rate hike has been influencing the price of precious metals for the past few months.
If the Fed chooses to increase interest rates, gold and silver, which are non-interest bearing, may lose their appeal and tumble further. There is a close link between the US real interest rates and the price of gold and other precious metals. The higher the rate on Treasuries, the more likely it will be that investors switch from precious metals to Treasuries. The below graph compares the performance of gold with two-year and ten-year US interest rates.
Article continues below advertisement
Funds and miners follow suit
In our next article, we'll look at how the employment figures and other crucial data releases that came out on Friday affected precious metals.
The changes in precious metals affect funds like the iShares Gold Trust (IAU) and the iShares Silver Trust (SLV). These two funds have risen substantially in 2016 with the rise in gold and silver.
Coeur Mining (CDE), Harmony Gold (HMY), and First Majestic Silver (AG) have also jumped significantly in 2016. These three stocks together make up almost 3% of the VanEck Vectors Gold Miners Fund (GDX).