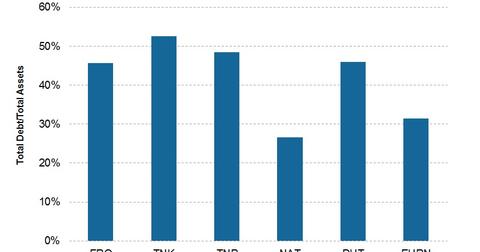 Which Crude Tanker Company Is the Most Leveraged?
By Sue Goodridge

Jun. 24 2016, Updated 8:07 a.m. ET
Leverage ratios
Shipping companies are capital-intensive, so looking at the financial leverage for these companies is of utmost importance for investors
A company's debt-to-asset ratio is an indicator of its financial leverage. This ratio tells us the percentage of assets financed by debt and indicates the financial risk of a company. A higher ratio means higher financial leverage.
Article continues below advertisement
Crude tanker companies' leverage ratios
Teekay Tankers's (TNK) debt-to-asset ratio decreased to 52.5% in the first quarter of 2016, compared with 53.7% in the previous quarter. Most of TNK's vessels are classified as operating leases. If these assets and associated liabilities were recorded on its balance sheet, Teekay's debt-to-asset ratio would have been higher.
Tsakos Energy Navigation's (TNP) debt has been slowly increasing for the past three quarters. However, the debt has been range bound. For the past 20 quarters, its debt has been in the $1.3 billion–$1.5 billion range. The company's debt-to-asset ratio stood at 48.4% at the end of 1Q16, a slight increase from the previous quarter's 48.2%.
DHT Holdings' (DHT) debt-to-asset ratio was 45.9% at the end of 1Q16. Euronav (EURN) has a leverage ratio of 31.5%, and Frontline (FRO) has 45.7%.
Nordic American Tankers's (NAT) business is based on the premise of low financial risk. Since its inception, the company has maintained low debt levels and strong solvency ratios.
NAT's debt did not change between 2012 and 2014. In 2015, it increased from $250 million to $330 million, and it remained constant at the end of 1Q16. Its debt-to-asset ratio stands at 26.6%, the lowest in the industry. Investors interested in broad exposure to industrial stocks could invest in the SPDR Dow Jones Industrial Average ETF (DIA).
Article continues below advertisement
Positives and negatives of leverage
Low debt levels decrease financial risk. However, investors should know that high leverage is not always negative and low leverage is not always positive. Debt acts as a lever, magnifying both gains and losses. Companies that have high debt in difficult times have a higher chance of going bankrupt. Also, share prices of these companies are more volatile.
However, high leverage can be positive when the industry and company are in good shape. Debt has a fixed cost and with an increase in revenue, profits increase by a higher percentage. In a nutshell, leverage increases the riskiness of a stock while magnifying its returns in a bull market.
Compared with equity, the cost of raising debt is lower, so a company can raise debt for its expansion and future plans. The flip side of this scenario is that debt has a fixed cost while equity does not. Going forward, if the company faces financial distress, this fixed cost can be a concern for the company.