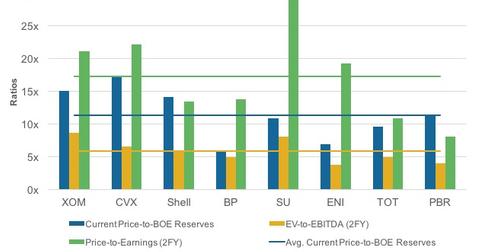 Where Do Integrated Energy Stocks' Valuations Stand post-Brexit?
By Maitali Ramkumar

Updated
Integrated energy stocks' valuation
In this part, we'll analyze integrated energy stock valuations post-Brexit. The companies have been evaluated on three parameters: current price-to-boe (or barrel of oil equivalent) reserves, two-year forward EV-to-EBITDA, and two-year forward price-to-earnings.
Article continues below advertisement
Current price to boe
Current price to boe shows the market price of the share as a multiple of boe reserves per share. ExxonMobil's (XOM) price-to-boe stands at 15x. This is higher than the average peer ratio of 11x. Also, Chevron (CVX) and Royal Dutch Shell (RDS.A) at 17x and 14x, respectively, trade higher than the peer average.
These stocks trade higher than the peer average likely due to the faith the market bestows on them for their ability to convert reserves into producing assets even at lower points in the oil price cycle. According to XOM, its capital employed per boe of reserves is the lowest in the industry.
On the other hand, BP (BP), ENI (E), Total (TOT), and Petrobras (PBR) trade lower than the average. The iShares Global Energy ETF (IXC) has ~57% exposure to the integrated energy sector.
EV-to-EBITDA and price to earnings
In terms of EV-to-EBITDA, XOM and Suncor Energy (SU) command premium valuations. But in terms of price to earnings, XOM, CVX, SU, and ENI command premium valuations. Thus, on all three valuation parameters, XOM commands a premium. CVX commands a premium in two of the three valuation metrics.
But why the premium?
The premiums are possibly because these companies are better placed in terms of capital structure. XOM's and CVX's average total debt-to-capital ratio stands at 21% compared to the peer average of 33%.
ExxonMobil is better placed than Chevron in both leverage and cash flows. XOM's leverage (total debt to capital) stands at 19.5% compared to 22% for Chevron. Even in terms of cash flow shortfall, Chevron's shortfall stands at 119% compared to 31% for ExxonMobil. Plus, in the scenario of rising oil prices, XOM with its low-cost reserves will likely be more profitable and stronger compared to its peers and will likely continue to command a premium in the future.