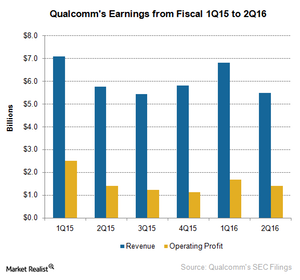 What's Been Slowing Down Qualcomm's Revenue Growth?
By Puja Tayal

Nov. 20 2020, Updated 4:17 p.m. ET
Qualcomm's revenue
In the previous part of the series, we discussed how tough times lay ahead for Qualcomm (QCOM) as smartphone sales have slowed and Apple (AAPL) shifts a part of its LTE (long term evolution) modem orders to Intel (INTC). Qualcomm earns revenue in two ways: by selling chipsets, and by licensing the technology to handset makers. The company earned 91.5% of its total operating profits from its licensing business and the remaining 9.5% from its chipset business in fiscal 2Q16.
According to Strategy Analytics, Qualcomm's share in the smartphone application processor market fell from 52% in 2014 to 45% in 2015, while rival MediaTek's share rose from 14% to 19% during the same period. Despite this, Qualcomm had a higher profit margin due to its licensing business.
Notably, Qualcomm has a margin of 33% while MediaTek has a margin of only 12% in fiscal 2015, making it difficult for the latter to improve market share.
Article continues below advertisement
Sensitivity to seasonality
As seen from the above graph, the fourth and first quarters are seasonally strong for Qualcomm as smartphone sales increase and companies launch flagship products. But the overall growth in smartphone sales slowed in fiscal 1Q and 2Q16 with Apple reporting its first decline in iPhone sales.
However, Qualcomm expects to improve its margins in fiscal 3Q16 supported by design wins for its high-margin Snapdragon 820 and a favorable product mix. Snapdragon 820 is powering Samsung (SSNLF) Galaxy S7, LG G5, Xiaomi Mi5, as well as handsets from Sony (SNE), HTC, and HP (HPQ).
Licensing revenue
Qualcomm has also resolved a patent dispute with LG, which would allow the former to realize more than $200 million in deferred revenue in fiscal 3Q16. Qualcomm has also accelerated its efforts to recover lost licensing revenue from Chinese (MCHI) handset makers, who under-reported their sales to save on licensing fee.
Qualcomm charges a certain percentage of the selling price as licensing fees. However, it faces antitrust charges from China's NDRC (National Development and Reform Commission) over its licensing fees. In February 2015, the company resolved the issue by paying a fine of $975 million and agreed to charge a discounted fee for handsets sold in China.
Next, we'll look more closely at the measures undertaken by Qualcomm to recover the lost licensing fee from Chinese handset makers.