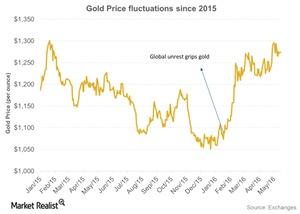 What's the Most Crucial Element Impacting Gold?
By Meera Shawn

Updated
Interest rates versus gold
Gold touched a fresh three-week high on Friday, June 10, as investor risk aversion increased the appetite for the precious metals. Last week marked the second straight weekly rise for gold. Although a possible interest rate hike remains the most crucial factor for gold, it seems to be off the table in the current economic situation. We may not see a rate hike until July or September. Thus, gold is free to roar. Gold has a close inverse relationship with Treasuries, although both are safe-haven assets. Many investors jump to either of these during times of rising uncertainty. The chart below shows gold's performance since the beginning of 2015.
Article continues below advertisement
Cross-commodity rates
The fluctuations in gold also bring about significant changes in cross-commodity rates, which relate gold to silver, platinum, and palladium. The comparative strength of these three metals with respect to gold is reflected in the gold-silver spread, the gold-platinum spread, and the gold-palladium spread. These three spreads came in at 73.5, 1.3, and 2.3, respectively, on Friday. A rise in the spreads depicts strength for gold, and a fall represents strength for the other precious metals.
Precious metal–based funds have risen considerably along with gold and the other three metals. The Direxion Daily Gold Miners Index Bull 3x Shares ETF (NUGT) and the ProShares Ultra Silver ETF (AGQ) have risen a whopping 310% and 51.7%, respectively, on a year-to-date basis.
The miners that closely track these metals include Gold Fields (GFI), New Gold (NGD), and Franco-Nevada Corporation (FNV). These three stocks have surged 33.4%, 25.5%, and 42.8%, respectively, on a trailing-one-year basis.
In the next article in this series, we'll discuss the effects of a rate hike on gold and look at the expectations for a rate hike this year.