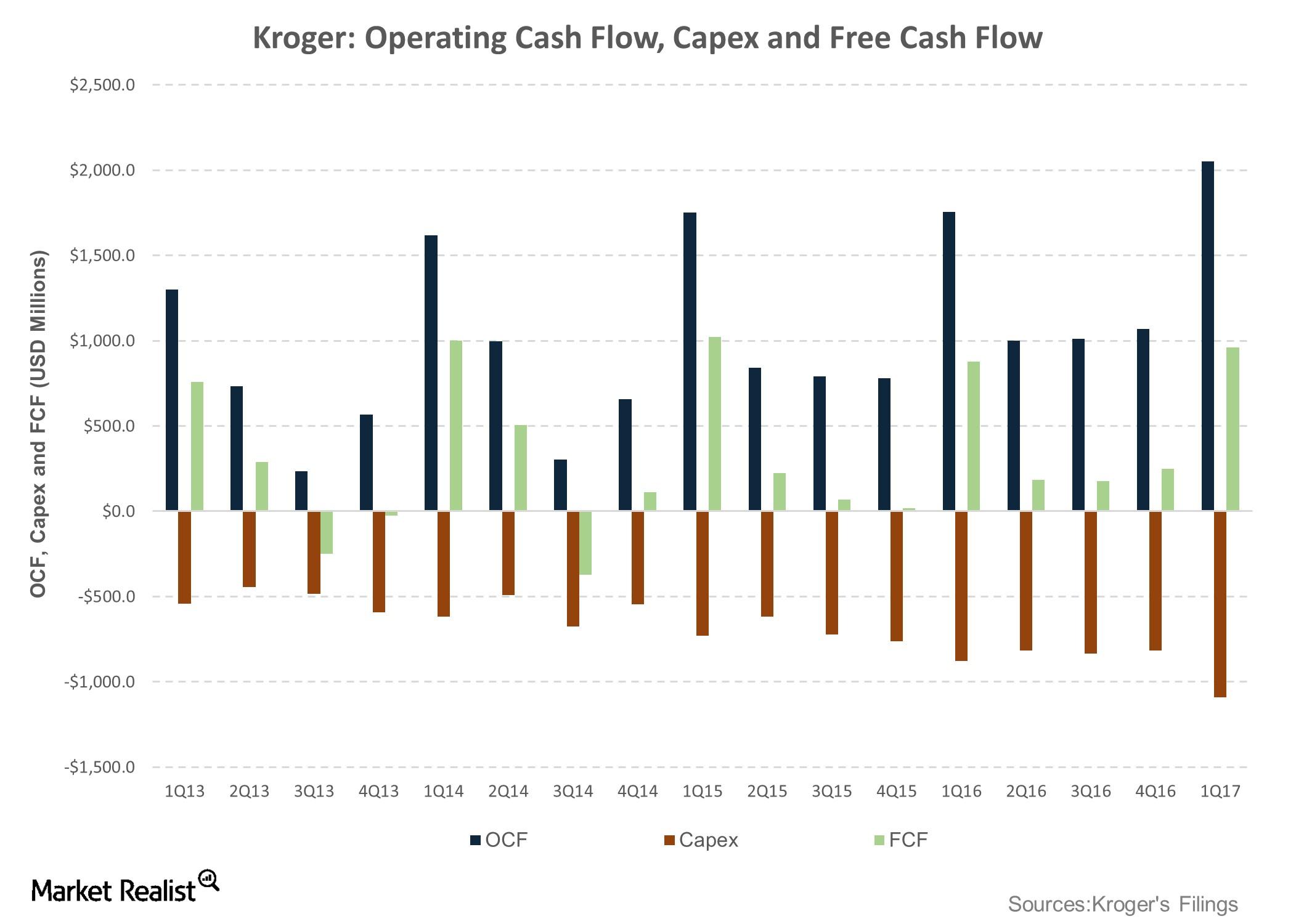 What's behind Kroger's Steady Dividends and Share Buybacks?
How does Kroger manage consistent dividends and buybacks?
Kroger follows a long-term financial strategy of using its cash flow from operations to repurchase shares and fund its dividends. Between fiscal 2013 and fiscal 2016, the company returned $1.3 billion to its shareholders through dividends and $3.8 billion through share repurchases.
The reason behind Kroger's active dividend payments and share repurchases has been its strong free cash flow position. The company's free cash flow has been positive for the last ten quarters. Kroger's free cash flow stood at $962 million at the end of the first quarter of fiscal 2017 (the quarter ending May 21, 2016).
Article continues below advertisement
More on dividends
Kroger's dividend per share has shown double-digit growth between fiscal 2012 and fiscal 2016. Dividends have grown at a CAGR (compound annual growth rate) of 16.7% during the period. The company continues to expect an increase in the dividend over time.
Kroger's expected dividend payout ratio for the second quarter of fiscal 2017 stands at 25.4%. Its one-year forward dividend yield is currently hovering around 1.3% (as of June 23, 2016).
Comparing Kroger to peers
Kroger is one of the few companies in the supermarket sector that offers dividends. Its competitors, Supervalu (SVU) and Sprouts Farmers Market (SFM), don't offer any dividends. Whole Foods Market (WFM), however, does offer healthy dividends.
While Kroger's dividend per share has increased by a CAGR of 15% over the last three years, Whole Foods Market has seen an increase of 28% in dividend per share in its last three fiscal years.
Investors looking for exposure to Kroger (KR) through ETFs can invest in the Guggenheim S&P 500 Equal Weight Consumer Staples ETF (RHS), which invests 2.5% of its total holdings in Kroger.