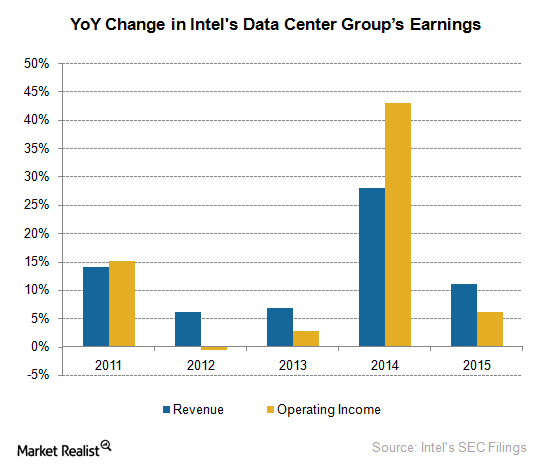 What Will Drive Intel's Profits Going Forward?
By Puja Tayal

Jun. 28 2016, Updated 9:04 a.m. ET
Intel's data center performance
In the previous part of the series, we saw that the data center landscape has changed from traditional servers to cloud and HPC (high-performance computing). Intel (INTC) is preparing to meet the renewed needs of the data center market and is facing growing competition from IBM (IBM) in this area. This transition was reflected in Intel's earnings.
Intel dominates the data center processor market with a market share of over 99%. Intel's DCG (data center group) contribution to overall revenues went from 20% in fiscal 2010 to 29% in fiscal 2015. While DCG's revenue contribution grew only 9% in six years, its contribution towards the operating income grew from 28% in fiscal 2010 to 56% in fiscal 2015.
Article continues below advertisement
However, the change in the data center market was reflected in Intel's DCG earnings. As seen from the above graph, DCG's revenue grew 28% YoY (year-over-year) and operating income grew 43% YoY in fiscal 2014. This was when enterprise storage demand exploded and the ASP (average selling price) rose 10% YoY while the unit volume rose 8% YoY.
However, the revenue growth slowed to 11.1% YoY, and operating income growth slowed to 6.1% YoY in fiscal 2015. The profit growth slowed as the ASP rose only 3% YoY while the unit volumes rose 8% YoY. Despite the slowdown, the growth was higher than that reported in fiscal 2012 and 2013.
Data center performance of peers
NVIDIA's (NVDA) revenue from data center grew 59% YoY in fiscal 2015 but this growth slowed to 7% YoY in fiscal 2016. Advanced Micro Devices (AMD) doesn't post data center revenue separately, but the EESC (Enterprise, Embedded, and Semi-Custom) segment's revenue grew 51% YoY in fiscal 2014 and then fell 8% YoY in fiscal 2015.
Future growth prospects
The scenario worsened in fiscal 1Q16 as Intel's ASP fell 3% YoY due to a slowdown in enterprise buying. Exane BNP Paribas analyst Jerome Ramel revised down his estimates for Intel's DCG revenue growth from 13.8% YoY for 2016 to 13.1% YoY. For 2017, he revised down the growth estimated from 11.5% YoY to 6.6% YoY.
However, the data center growth is expected to accelerate in the long term as macroeconomic conditions improve and the emergence of IoT (Internet of Things) and 5G drive the need for deep learning.
Next, we'll look at Intel's IoT segment. The iShares Russell 1000 Value ETF (IWD) has holdings in large-cap US equities across various sectors. It has 1.4% exposure in INTC, 0.09% in NVDA, and 0.61% in IBM.