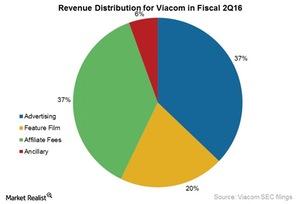 What Is the Outlook for Viacom's Affiliate Fees?
By Shirley Pelts

Updated
Affiliate fee outlook
Viacom (VIAB) stated at the Gabelli & Company Movie & Entertainment conference held on June 9, 2016, that the company follows a "two-pronged strategy" when it comes to distribution of its programming.
The company noted that it distributes its programming to MVPDs (multichannel video programming distributors) such as Dish Network (DISH) and through virtual MVPDs like Sony Vue (SNE).
In late May 2016, Viacom renewed its carriage agreement with Cox Communications. The company also stated at the Gabelli conference that its average growth rate of its affiliate fees after the renewal of its agreements with Dish Network and Cox was in the "high mid-single digit range."
Viacom also stated that 80%–85% of its affiliate revenues come from its six top media networks while 90%–95% of its affiliate revenues come from its top eight media networks. In fiscal 2016, Viacom expects its affiliate revenues to be in the "low mid single-digit range."
Article continues below advertisement
SVOD services
Viacom (VIAB) stated that there are more choices when it comes to over-the-top services other than SVOD (subscription video on demand) services like Netflix (NFLX).
The company added, "SVOD will be a less important strategic source of revenue for us even though, right now, we're examining and discussing and decide this fiscal year what we ought to do in that SVOD space and will make some strategic decisions on that."
Affiliate fees in fiscal 2Q16
Viacom's Media Networks segment had affiliate fees of $1.1 billion in fiscal 2Q16, a decline of 1% over fiscal 2Q15. Viacom's affiliate fees fell by 2% in the United States in fiscal 2Q16. The company stated that one of the reasons for the decline was a "rate realignment with a major distributor" and "slight declines in distribution."
As the above chart indicates, affiliate fees made up 37% of the company's total revenues of $3 billion in fiscal 2Q16.
Viacom accounts for 0.29% of the PowerShares QQQ Trust Series 1 ETF (QQQ), which has a 4.5% exposure to the television sector.